Saturday, January 19, 2013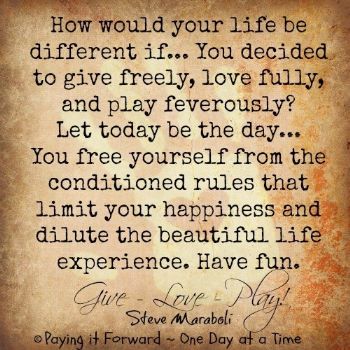 "Dear God, I am (fill in the blank) about that situation. I place everything that happened and all my feelings about it in Your hands. Please help me see it differently."
Self-abnegation: I have built this wall so that others won't hate me for being beautiful and successful and seeming to have it all.
Dear God, Please remove the wall that I have built around me. I have built it so strong, dear God, that I cannot tear it down. I surrender to You every thought of separation, every feeling of fear, every unforgiving thought. Please, dear God, take this burden from me forever. Amen
As I worked out today watching the final episode of Fringe, I couldn't help seeing the parallel to how their fight for freedom is similar to the freedom we experience when we tear down the walls we build upon ourselves. For me, my wall that I have built so high has been my weight. It was easier for me to be comfortable being this way than to make a change. That way I felt comforted by not allowing anyone in so I wouldn't get hurt. Due to this fear of letting anyone in to know me, I have hurt myself, not only because of the weight, but because I shut others out to the point where I kept me isolated from really living, really loving. Now that I have experienced this love, I don't want to turn back. There is no turning back, just forward into success. Forward into beauty. Forward into love. Forward into having it all!:)