First of all I am so Proud to say that I weighed in this morning and have officially lost 11 pds .... Oh Yeah !!! :D
I had a Great week with putting in my Turbo Jam 20 min. workout every afternoon and making sure I ate nutritious meals within my calorie range. I am empowered to stay on track and motivated to keep at it every day. Thank you to you all for helping me as well by inspiring me as I come across your pages and see your progress and pictures of how far you've all come. Or reading your encouraging blogs. That Really motivates me to keep going forward each day, so Thank you girls. I wanted to share this Crazy/Amazing experience I had last night....
I have a friend (Leticia) who had asked me at the beginning of this past week on Monday, if I would come with her to this new workout class she had heard of and wanted to try it. I couldn't make it to go with her because my hubby and I had to go out of town to the nearest Sears store to get a new battery for my vehicle. Since the weather had been so cold, my battery had it! The next day, I called Leticia and apologized for not being able to go to that class. I was curious to know what it was about and asked her. Leticia told me it's called Cardio 60 and it's a cardio dance class that is held M-F in the afternoons. She asked if I could go with her another day this past week. I told her I knew I could go with her for sure on Friday. So, Friday came and I called her in the early afternoon to see if she could still go. She told me she would meet me there at 6:45 pm and let me know that on Friday nights it is a 2 hr class. I said "What" !! I thought to myself "Ok.... I'm always open to try new things and see how I like it".
When I got there last night, she was waiting at the front entrance for me with another group of girls that where also waiting to get in. We were waiting for a group of boys that were inside doing a karate class. Once we got in, my friend introduced me to the instructor who is like in his middle or late 50's (Wow!) who was spanish speaking and is in Great shape for his age (that's inspiring). I paid him the $3.00 fee for the class. I remember he told me "Just do what you can". My friend told me that he goes fast at times but just to go at my own pace. I told my friend that she might have to try to drag me out to my car after a 2 hour workout since I've never tried this. There were two other trainers with him. A girl and another guy. Before the class started the instructor was going to give out certificates to those students who had already completed a year at his class. Once the class started they dimmed the lights and turned on the disco lights. I thought, "ok. this is cool" During the workout I followed the girl because she went at a medium pace. So we started with a warm up of kickboxing moves which I really liked

. Then we got into the dance moves and it was like Zumba but Taking it into the next "Major" level. The music just kept going and the instructor would just yell "water !" at the 2 second stop of each song

. Ahhhh......
OMG !!!! was I out of breath and Really sweating. I usually don't sweat much during workouts but this one about killed me !

Once the first hour was over, I seriously thought to myself "what the Hell ! did I get myself into" Then it just kept going with more jumping, stand up ab crunches, and kicks. It did have Zumba moves too

. I Really did Enjoy the music though, it was a mix of spanish mexican music with english house/techno-which brought back memories of some of the songs I danced to at the clubs in Hollywood with my friends back in 96' :D, there was also 50's rock music like "the twist". The whole music was Awesome because it had Awesome beats that made you get into the music and keep going. Now, the workout was something else (deep breath) I was gasping for air towards the end

and I seriously had never worked out that hard in my entire life to any other workout. This was "Beyond" my intensity level. I was at the point of saying "Holly S***!" It was like the Biggest Looser show when the contestants get pushed to their maximum level and I thought of the instructors like I had Jillian Michaels in front of me telling me "Unless you puke, faint or die...KEEP GOING !!!"

I tried my hardest and pushed myself to my own next level of intensity. I am Very Proud to say that I pushed myself through the whole 2 hour workout without stopping, not even for a bathroom break. During the 2nd hour I seriously thought my leg's where going to literally break ! They felt like jello and I could not lift my legs up towards the end but I did accommodate some moves in order to just keep moving/going. I was literally gasping for air towards the end and I knew it because at one point I yawned and I know that was my lungs "begging" for more oxygen ! I did not want to give up ! That was not an option for me. Just kept breathing harder and closing my eyes while taking in deep breaths. I kept thinking, God please help me get through this. I self talked myself to keep going. telling myself that I was stronger than I thought. If I started this, I was going to finish it to the end..... and I DID !!!!!!!!!! OMG !!!!!!! It was an Incredible and Intense experience ! I walked all wobbly over to put on my tennis shoes and was so drained that I just pushed my feet into them. There was no way I could even try to put them on never the less tie them. I told my friend I should of started with the one hour class instead of going straight for the kill ! I SERIOUSLY could of Crawled out to my car ....

. I got in and sat there taking slow breaths and thought, I DID IT !!!
"What Doesn't Kill You Makes You STRONGER"
I killed it !!!!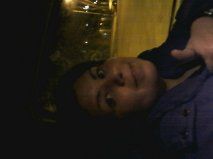 Sorry, for the pic being sideways, I couldn't figure out how to rotate it :/