Results of Fat fasting day 2
Saturday, January 19, 2013
48 hours is way long enough for me... I wanted to go through today and that is NOT happening... plus I've already lost a lot and hopefully this jolted my system past this plateau and into losing steadily again.
Here is my final weight as of this morning: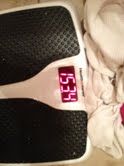 For the past several months my body refused to even get past 156.... I would get there and then immediately bounce back up 1-2 pounds. I wouldn't gain beyone that.... and I wouldn't loose beyone that. SO, hopefully my system got the shock it needed to get over itself. I am looking very very very much forward to a sausage ball this morning. YUM
I'm going to steady my system back into eating a really watch the carbs today and tomorrow keeping them as low as possible....
So, overall.... success for me if I can get this scale going down again!