18 January 2013 He's HOME!!!
Saturday, January 19, 2013
Arrival Picture
Ok, short blog. Yesterday was a very emotional day. Had testing done on Wednesday. Got a call yesterday that something was "wrong" and so had to schedule a repeat. OMG! Well, long story short, I got the testing done and all turned up well. BREATHE, BREATH, restart heart, repeat the process!
BEST of all, John is home! We picked him up last night. When he came down the gangway, someone offered to take a picture of us together. Here it is.
Wanted to share.
HUGS from one happy Mama!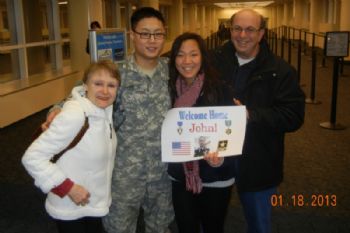 The expression on my face is crying! Naturally. LOL