Saturday, January 19, 2013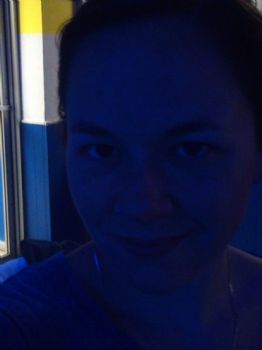 I apologize for how dark this picture is, but this is what you get when you go glo bowling! lol I really like my smile in this picture because I actually took this picture in front of my friends. I don't take pictures of myself in front of people. I have pretty much always taken them when no one else was around.
Today was an interesting day though. I donated blood this morning and since I have had some slight issues with passing out lately, I ate the brownie they provided me. A few hours later I ate lunch and went to a friends house. While I was there, the family she lives with made dinner for my friend and I. It had been a few hours since lunch and I knew I was going to be out late at a bowling alley, with not the healthiest options around, so I ate what they provided for us...which was some fantastic beef vegetable soup! But while I was at her house, I was really struggling with trying to not pass out. I felt super dizzy. After dinner we went to a friends soccer game and while I was there I struggled some more wi feeling like I was going to pass out. After soccer, we went to the bowling alley and while I was putting my shoes on, I was seriously struggling. I decided I really needed some sugar because I was just not getting over this feeling. Well unfortunately, bowling alleys don't really have many options so I ended up getting a slurpee and shared it with some friends. But it was really hard for me to even purchase the slurpee to begin with. I didn't want the slurpee, but I knew I needed some sugar. It did help me, the dizziness went away, but that was a real struggle for me to drink it knowing how much sugar was in it, and accepting that. I really hope I don't see it on the scale tomorrow. I know it was only one night, but I'm having a hard time getting to my short term goals of 2 more lbs and 6 more lbs.