This is a message of HOPE
Friday, January 18, 2013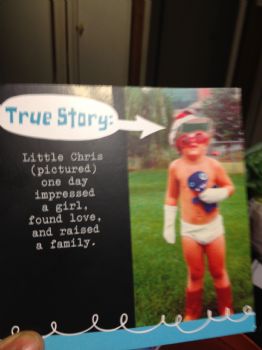 A very dear friend gave me this card in 2011. It's a cute curly blonde haired boy in a diaper with cowboy boots. It claims he grew up normal, got married, and had kids. It was a message of hope.
I just had a real good cry-- you gotta have one every once in a while. Now, I'm feeling hopeful. I think that rose soap has my name on it and I shall take a nice dip in the shower. I might even get my hair combed.
I wish my nana was here because she'd whip me right into shape! She was a real force to be reckoned with. I don't pretend to have her strength but, I can aspire and admire the cloth I was cut from.
Me and Chris are a message of HOPE!!!! I'm back SP so just get ready.