I'm not much of a numbers cruncher; I tend to measure most of my progress in non-scale victories. But occasionally, I take a look at the numbers. For someone who lives in WonkaLand most of the time, it can be a firm reality check. But you know what? As black and white as those numbers are, sometimes I still need to interpret them from different angles, even upside down. It helps me keep things in a healthy perspective, and there's value to that. That's what I did on my walk this morning, so I thought I'd share it with you, in case it was relevant to anyone else. "Once more, unto the breach, dear friends!"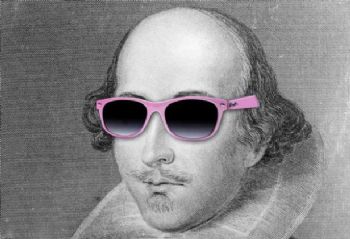 Shakespeare makes everything classy
Side note: several people have asked how I'm able to film myself while walking and doing stuff. Well, I used to just hold out my camera or phone at arm's length and hope for the best. But I got an iStabilizer monopod for Christmas, so that's what I've been using lately. It holds my phone or GoPro, has a telescoping handle and is really well-balanced. I'm still getting the hang of it. It's still pretty shaky, there's still an element of "hope for the best," but it's a pretty handy gadget to have. Now you know. Mystery solved.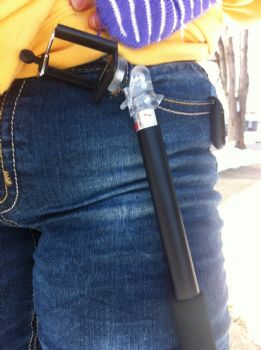 I can even slip it onto a belt loop. Batman would use this monopod. Batpod!
Bonus side note: Speaking of gadgets and gear, I have to tell you about a recent temptation I had. Some of you know that I edit video for a living. From time to time, I use plugins, which are little effects or tools that supplement editing software. One of my suppliers came out with a new one, called Skin Smoother. It's basically photoshop for video. You can take out the wrinkles, age spots, blemishes; you know the drill. Initially, I thought, "Hmm, some of my clients might appreciate that." Then I thought about how easy it'd be to use that in my own vlogs here. I have quite a few laugh lines (one of the hazards of living in WonkaLand) and new age spots seem to pop up every few months. Did I mention, I film in HD? So yeah, everything pretty much shows. And I'm often outside, under harsh light, wearing workout clothes and minimal makeup, if any. Not exactly supermodel conditions. This plugin was tempting. Then, I shook myself awake and realized what a crazy idea that was. Please. The point of my vlog is sharing my journey--my real-life, middle-aged, suburban housewife, work-from-home mom journey. That one. So, as tempting as it was, I said "no" to the plugin. My clients will just have to be real too. Lol. Spark on, brave Sparkers!
PS: (slightly different than a side note) Did you notice my hair being kinda blue in this video? That's because it is, or was. I made Steampunk Goggles last night and got blue paint in my hair. Hey, these things happen. Anyway, it washed out, just in time for me to get a haircut and fresh, purple highlights this afternoon. WonkaLand, heh heh, it's a great place to live.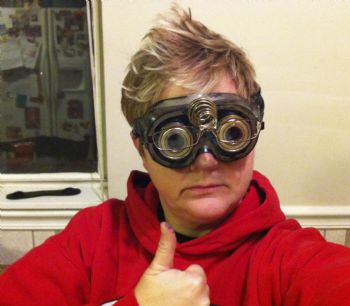 I do NOT wear Steampunk Goggles on my walks.