Friday, January 18, 2013
Iíve been told that I need to be more positiveÖ.enjoy life more. More positive in terms of looking at life, myself, others, my Ďsituationí and dealing with the negative. Iíve always been pretty negative but I can see how it is having a bad impact in my general wellbeing and outlook. Part of me just doesnít want to be like Stuart Smalley. Where Iím so happy I look in the mirror every day and give myself a pep talk summed up by saying Ďand gosh darn it, people like me!í Itís just unnatural for me to be like that. I know I donít have to be just like that but thatís pretty much what it feels like when I try to give myself a positive pep talk.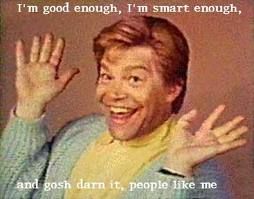 I was asked to come up with 3-4 ways I can routinely embrace life. I donít even know what that means. Literally I want to Google Ďembracing lifeí and see what I get. Iím at a loss. I suppose I could make an effort to appreciate the little things more but what does that look like? I could take trips across the world, meditate everyday, be more spontaneous, quit my job and travel like a nomad.....those things would help me embrace life but aren't doable. Do people even do that? Walk around embracing life? Guess Iím off to GoogleÖ..