I am almost done week 2 of my 12 week challenge and it has been going very well. Yesterday I really did not want to go to the gym I had an incredibly long day (got to school around 6:45, kids came in at 7:40, taught first three classes straight until 12:20, this is when my lunch would begin, but I had kids who are failing come in during lunch for a special weekly coach class, they walked out at 12:50, this would be my planning period, but I have another kid come in to work on SAT material, he walked out at 1:30 so I could go to a meeting. The meeting was over around 2, so I went to the workroom and made my copies for next week. School was over at 2:20. whew!). I was trying to think of every excuse not to go, but I had my scheduled training session, so I just went. I got there early. My training session was at 6:30. I got there around 4:30. I did the elliptical for a little bit (maybe 15 mins) and then decided to do the treadmill. I was just going to walk with an incline. I decided to jog for a little bit here and there. After a while I saw that the stair steppers were open, so I decided to try it. This is my first time every using this machine. I always see crazy fit, skinny girls on them so why not. I did stairs for a half hour. It said I did 100 floors and my heart rate was higher than on the elliptical or treadmill. It was pretty difficult! After that I did the bike for around 10 minutes and then it was time for my session. We did a half hour of weight lifting (mostly upper body because my legs were tired lol). I worked out for 2.5 hours and burned 1188 calories! I felt so awesome when I left. I had energy and was in a great mood. Usually I am stressed with having to spend that long at a place when I know there are things I could be doing at home, but it was really relaxing being there. I would like to make this a routine. So far this week I have burned over 2,000 calories and have been doing very well with my exercising goal.
I was also excited to try my new PB2. I bought it from the gym. They were out of the chocolate peanut butter flavor, so I just bought original peanut butter. I mixed it with water and it was VERY close to the regular consistency of peanut butter. I had it with a banana. FANTASTIC! I put some of the powder in my oatmeal this morning. It is also quite tasty (and for only 45 calories for 2 tablespoons who could ask for more!?).
I was feeling pretty skinny last night when I came home from the gym, so I decided to take more "ab" pictures. I was trying to wait until the end of the 12 weeks, but I just can't do it. lol. I was surprised to see progress! Here are my comparison pictures.
Side view:
Sept 22 (just to give you some reference)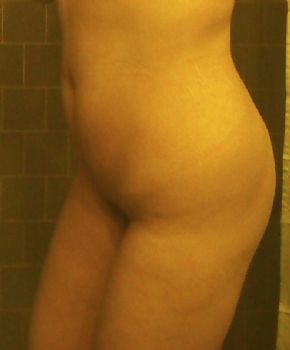 Nov 12

Jan 2nd (beginning of 12 week challenge)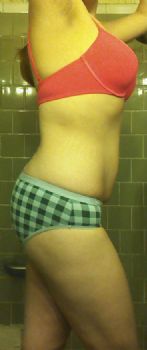 Jan 5th

Jan 17th (current)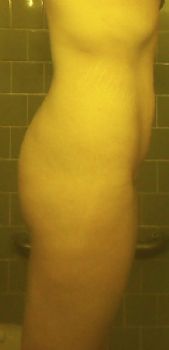 Front view
Nov 12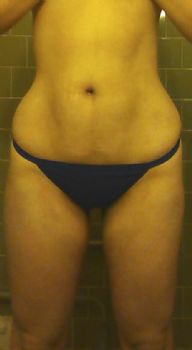 Jan 2nd (beginning of 12 week challenge)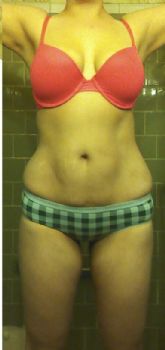 Jan 5th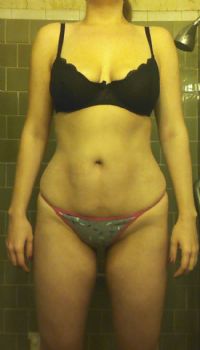 Jan 17th (current)- my thighs also look much smaller in this picture, but I had to crop it for appropriateness purposes lol.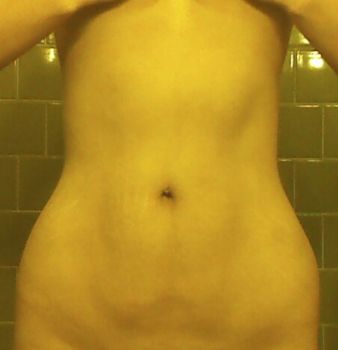 There is still some fat and skin in the center of my stomach where my 6 pack should be lol, but I am noticing a difference. There is less mass on the sides and my bone structure underneath is becoming more prominent. I am estatic about this! I knew what I wanted to work towards, but I guess it is natural to not really believe if that is possible for you. If other people have done it why can't I... but I haven't ever done it before so I still was not 100% sure if it would work for me. I think it will!