Thursday, January 17, 2013
I decided to post another blog because I have sat back and thought about my life and realized for the first time that I can do this weight loss journey with my head held high. I have always been told that I am fat and ugly and unable to lose the weight but to the people who told me this I say go and look in the mirror and see that you have no room to talk. This is 2 pictures of me that I did and I think there is a change in them.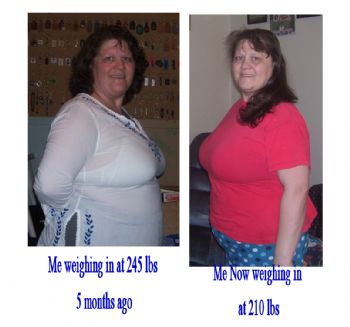 The first one was taken 5 months ago and the second one was taken last night. To me I think I look good so far and if I want to lose the 100 lbs I will be getting my butt in gear and doing everything I can to lose it no matter if my legs tells me other wise or not. I have to lose the weight so my leg will heal more. I know it doesn't look like I lost any weight in the second picture but I did and its a total of 35 lbs gone so far.
I want this more then anything in the world and I have the motivation and determination to succeed. I am starting my new diet plan on Monday January 21 which marks the anniversary of my mother in laws death and I know that she would be proud of me if she was alive today.,
Man I am fat and ugly