Thursday, January 17, 2013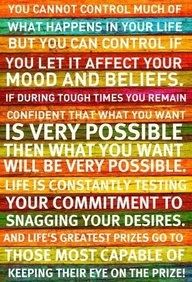 You cannot control much of what happens in your life
but you can control if you let it affect your mood and beliefs.
If during tough times you remain confident
that what you want is very possible
then what you want will be very possible.
Life is constantly testing your commitment
to snagging your desires.
And life's greatest prizes go to those most capable of
keeping their eye on the prize!
Song of the day is The Wallflowers ft. Mick Jones - Reboot The Mission. Click the link to watch the video -
vevo.ly/R1IVTt