Wednesday, January 16, 2013
Alright folks. I have put this off long enough. I took some before pics many months ago and they were so depressing, I threw them away and cried. And cried. And then cried some more. Needless to say, I did NOT want to do this again, but I know that in the long run I will be glad I did. So, here goes nothing.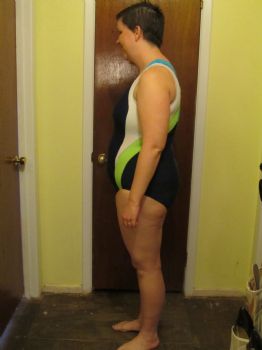 I even wore my swimsuit to be as truthful as possible. It was about as bad as I had imagined, but it was inspiring this time. It was inspiring because I know what I can do now that I couldn't do a year ago. One year ago, I couldn't hang with one whole hour work out class and I couldn't do more than 5 minutes on a machine. Last night, I went to the gym at 5:40. We were going to hit a power class (a one hour muscle building fat torching crazy class) but it was filled to the brim by the time we arrived. So, my DH and I hopped on the ellipticals for 30 minutes, then did strengthtraining on the machines until about 6:50. I even tried out Jacob's Ladder for the first time! I only lasted for 4 minutes on that machine of torture, but I still tried! Then we hit our 60 minute swim class. This morning I got up and went back for another swim class that I normally do on Wednesdays. I am tired! But good tired...I feel every muscle in a good way and I feel like I have accomplished so much already this week! I decided that maybe I have been eating right, but I haven't been exercising enough, or maybe not changing it up enough.
Anyway, I am ready to do this weight loss challenge and hopefully put some awesome progress pics up after the 12 weeks! I'm also very inspired by actually watching The Biggest Loser also. I really think it makes me push myself even harder! So, let's