Wednesday, January 16, 2013
Beginning today I have changed my weigh ins to Wednesdays. It lines up with the end of the year much better that way. I lost another pound this week. Not exactly sure how. Not much exercise to speak of what with my lack of energy this week. Nevertheless I will take it!
Yesterday DH and I spent a few hours with the grandson. I left it up to the husband to negotiate with our daughter. He seems to have more luck with her than I do. And did I mention it saves on stress too! Anyway we took the little guy to Michaels. I had some things to pick up there and he enjoys checking out the little toys. Afterwards we took him to Basketball practice than to Olive Garden for dinner. We had a nice time! I did have a bit more energy yesterday but when I got home I felt like someone had beat me with a stick.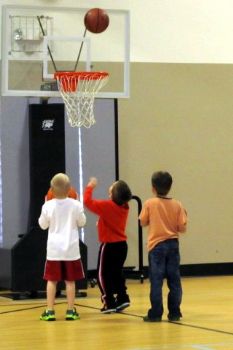 The grandson (in red) showing off his skills at B-ball practice.
At Michaels I picked up some 11x14 sketch pads (buy 1, get 1 free) as well as some charcoal and graphite pencils. I want to get back into drawing again. It's something I have found enjoyment in before. I also picked up some yarn at a $1 each for an upcoming Easter project, craft paints 3 for $1 as well as some scrapbook paper, 5 sheets for $1. I must say I do enjoy their $1 Sales.
Lastly my daughter was recognized this week for her effort this past Fall semester. She made the Dean's List. Despite our differences I do hope she continues to do well in her studies.