Tuesday, January 15, 2013
I've got one month to go until my birthday (which is just 2 days after Valentine's Day). I've been in a funk lately. Time to pull myself OUT and get back on track. I haven't exercised in over a week!!!
This was my breakfast today: Steel cut oats with added egg whites, pumpkin, banana, and prune...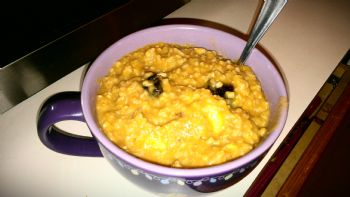 And here was my dinner: Turkey Meatball Soup (a modified version of this recipe I found on Muscle and Fitness Hers
www.muscleandfitnesshers
.com/recipes/albondigas-me
xican-meatball-soup
)