So, this is one of my Christmas presents from my hubby.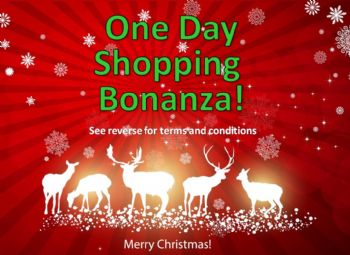 So this is the front. This is on the back TERMS AND CONDITIONS! (Had to take picture out so that you can actually READ THEM), LOL....
This coupon entitles Maria Elena Pearce, hereafter referred to as "Teddy Bear", to a one day shopping and purchasing experience complete with transport for acquired goods and protective escort, hereafter referred to as "Stud", subject to the following terms and conditions.  
1. Purchase volume executed at each shopping facility shall be limited to a maximum of one-half the number of items on display for sale at said facility.  
2. All goods purchased must collectively as a group fit into the cargo hold of a 2008 Honda Pilot. Aggregate total weight of said purchases shall be limited to a maximum of 1,000 pounds.  
3. No purchase may be paid for by Teddy Bear. All purchases must be financed by Stud. Stud shall be given the unencumbered opportunity to perform the Three Ups.  
4. Stud shall be allowed at any time to seek and exploit comfortable seating to rest his weary bones.  
5. Stud shall be allowed unrestricted cell phone usage throughout the day for purposes including but not limited to playing Sudoku, Words with Friends with Angie, and Scramble with Krystal.  
6. The parties Teddy Bear and Stud may at their discretion interrupt shopping and purchasing activities for the purpose of gaining physical sustenance, otherwise known as dining out, so that the shopping and purchasing activity is more sustainable and enjoyable.  
7. Both parties shall endow upon each other ample hugging, kissing, and stuff at frequent intervals throughout the shopping and purchasing experience.
I was rolling on the floor laughing my booty off so much so it took us alot longer to get through the rest of the present.
I will redeem this coupon as soon as I lose 25 lbs, I have it in reserve!

ENJOY.
Maria