I am in the middle of my 2nd week of the 12 week challenge. Last week I saw a 4 lb loss! I was back up a little bit after my weigh-in day, but that's usually how it works with me. My body fluctuates a little here and there, which is normal. I have noticed that I am looking forward to working out more now that I have started this challenge and I am much more consistent with working out. I am also being more careful about my food.
Last weekend I went latin dancing with a friend. I can't believe I danced in public with strangers! It was a blast!!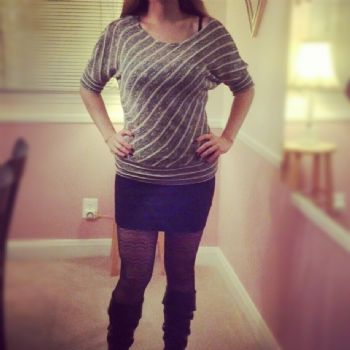 Current muscle pics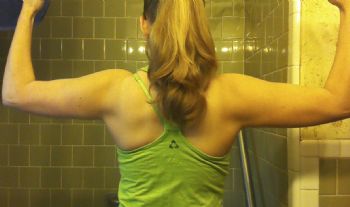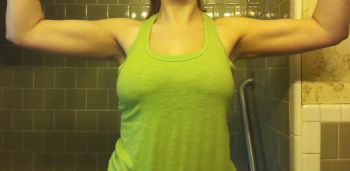 We had zumba in the dance studio yesterday rather than the cafeteria. It went really well! Hopefully next month picks up even more so we can continue the program. Here is a picture of me before zumba.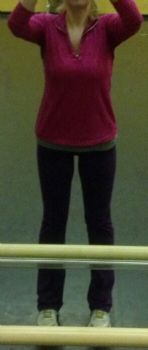 I did yoga again on Sunday with a friend. We haven't gone since the summer. It was fantastic!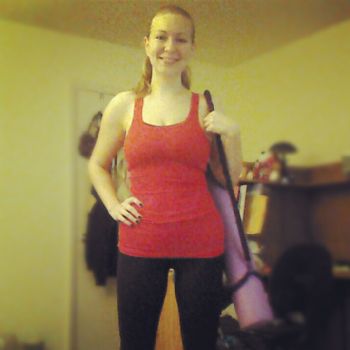 This week I made probably my new favorite protein shake recipe. Strawberry banana cheesecake protein shake.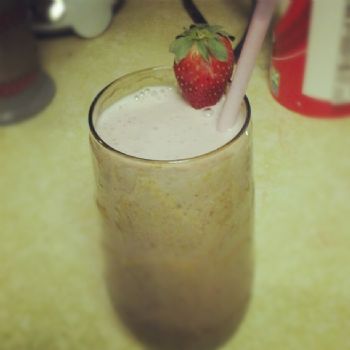 -frozen banana sliced (137 g)
-frozen strawberries sliced (124 g)
-2 c coconut dream original coconut milk
-1 scoop vanilla whey protein powder
-.5 tbsp jello sugar free cheesecake pudding mix
SO good! It made 5 cups! (95 cal per cup). It took me all day to finish it.
One night I made myself some tortellini with lemon garlic shrimp and scallops. Quite tasty. I also bought myself more fruit. I can't wait until it is fruit season!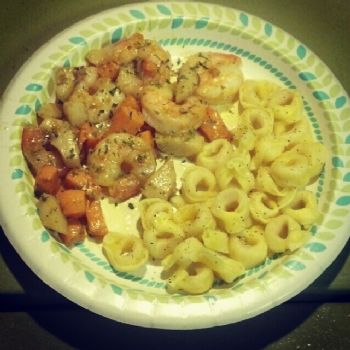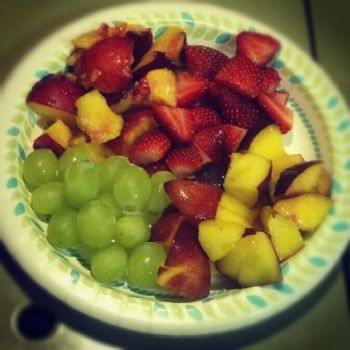 I wanted to end this blog with an interesting discovery I stumbled upon last night. I found the list of reasons why I wanted to lose weight in my phone last night. I was speechless when I read the list. I will share what was on there with you....
-To be able to jump
-To not have to wear a bra
-To have more sex
-To look better in clothes
-To have energy
-To be able to have fun athletic dates
-To participate in races
-To enjoy clothes
-To wear heels
-To get compliments
-To feel confident seeing people from HS
-For better posture
-To be a better teacher
-For pools and bathing suits
-For confidence
-To be able to take risks
-To not care about other opinions
-To feel good about myself
-So studetns won't say "what happened?"
-To be included in what friends do
-To be hit on by a stranger
-To wear sexy clothes
-So thighs won't touch
-For that breath taking look he gives me when I'm dressed to go out
-To enjoy fitness classes
-To maybe dance in public
-To be able to see my feet
-To not be embarassed at the doctors
-To like my hands
-To be able to shave
-For hip bones
I'm not sure if I shared that list before, but this was incredible to me. I feel like I've accomplished EVERYTHING on that list! As of Sunday I was 77 lbs down since I started and 10 lbs from my goal. However, my goal is more for appearance versus numbers. It is mind blowing to me that "to be able to jump" was my goal at one point. We all have to start somewhere and we all have to identify areas that we want to change. My new goals include improving my half marathon time and to improve my muscle tone (among other things), but it is really empowering knowing that in a little less than a year I was able to make such huge changes and change my whole outlook. I crossed off my weight loss bucket list and am making more strides daily. We can do this!!!