On Tuesday May 15, 2012, I started what I think will be my last book. This is PG rated version as I plan to have the X rated published in hard cover. It is called "The 7 Decades Series" based mainly on my life. I am writing it not because I think my life is much different than many people but in the hope that some younger people will learn from my mistakes, or triumphs, even though I am aware that most people will not listen to elders but prefer to think their life will not take the same path doing the same thing the old folks did. I certainly hope young gay people will read what is part of their history and I think nongay people will learn of a world they don't know or think they do but don't really. Also, if you don't know, there is no one 'type', or stereotype, of a gay person as they are as different as nongay people--all sizes, all types, all heights, weights, all temperaments, races, religions, somebroughtupin 'traditional' families, some just by one parent some by same sex parents (though I am willing to be that 99.something percent were brought up by a nongay parent or parents) and, sorry, one size does not fit all.
Starting tomorrow I will continue the story with chapter 20 A with all previous chapters of the series already posted.
I don't remember the exact date but I do know it was 1947, I was 11 years old, and I realized that I was gay. It would be a year later that I would have sex with another male and yet another year before I started activism by coming out. The second decade of my life was a very bewildering, mixed up time but then, I suppose, most teenagers could say that except I had the additional pressure of discovering exactly what being gay meant. From the ages of 13 to 16 I discovered a Manhattan that most adults, let alone teens, from 1949-1952 didn't know existed. There was an underbelly of restrooms, bars, baths and parks the majority of New Yorkers were not aware of being. I always looked older than I was so I wasn't carded going into bars--the legal age was 18 back then--or the baths. I learned about the bathroom on the 8th floor of the Rockefeller buildingandthetwobasementrestr
oomsalong with the IRT 50th street and 28th street stops.
There was also a sophisticated gay side that I was taught about consisting of going to theatres, piano bars, dinners, penthouse orgies, museums, art galleries and jazz clubs. I was described as a 'west side' kid with entry to the 'east side' gay life.
At the same time I was dealing with a family that was, and had, failed. I was asked to play a part, a role that I wasn't able to deal with. In June of 1952 I left my family, got a room in Greenwich Village, got a job as an usher at the Lyric theatre on 42nd Street, went to summer school and found time to get comfortable in a world that I wanted to be in and make better. After graduating high school I attended the State University of New York for 1 semester before deciding to enlist in the United States Marine Corps and in February, 1954, I arrived in Parris Island, South Carolina.
Someday I will get into being entrapped by the vice squad, scams against gay men in the movie houses along 42nd street by security men, a 3 month 'affair' with a celebrity, intermissions at the theatre and making dates for after, having to grow up fast and holding my own along with mentors who helped me become the activist that was able to accomplish some things but for now it is time to talk about going to Korea and ending my second decade of life taking a life only to be chewed up and spit out!
Oh did I mention that I was a fat kid and after leaving home I ended up in the hospital overdosing on 'diet pills'? No, I wasn't attempting suicide--I was just trying to lose weight faster!
After 16 weeks of boot camp in swamp surrounded Parris Island I saw, for the first time, the good looking man I could be. On leave, in New York, before being transferred to Camp Pendleton, I saw the admiring looks I was getting when I went into the 63rd Street Y or the theatre or Downey's on 8th Avenue, dressed in uniform and it would be a little over a decade before I would be getting those looks again.
I spent a couple of weeks in Camp Pendleton, California, undergoing more training. It was a huge base between San Diego and Los Angeles surrounded by hills and divided into many sections. When I arrived there a new part of the base opened and was called Camp Horno--yes, you know the punch line, you know what they called it. Along with that female Marines were referred to as "BAMs" and if you can't figure that one out e-mail me. Remember this was the mid-50s, a different world.
A surprising factor to me, though it made sense once I thought about it, and Marines here will deny it vehemently, there were many gay Marines, as discharges would show after the Korean War was over. Many teens, young males, unsure of their masculinity, sexuality, enlisted in the Marine Corps to 'prove' they were men but it didn't take me long to learn that many would rather go into the hills on weekends instead of going to nearby Oceanside or up to Hollywood and, trust me, it wasn't to hear the sound of music.
None of the above is meant to be negative about the Marine Corps. I was proud to be a Marine and I still state, with pride, that I was a Marine, in spite of how they treated me and other gay men when we were no longer needed by them.
Before I knew it I was on a troop ship on my way to Korea to 'help clean up'.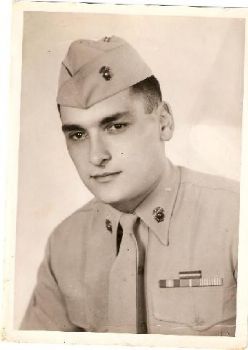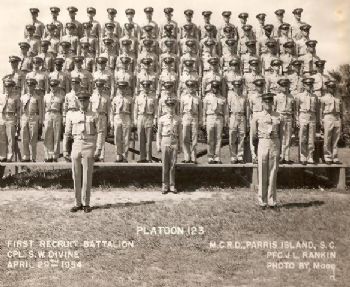 (TO BE CONTINUED)
****************************
**************************
***********
"I AM NOT AFRAID OF STORMS
FOR I AM LEARNING
HOW TO SAIL
MY SHIP."
LOUISA MAY ALCOTT
(FROM MARIA'S CARDS)