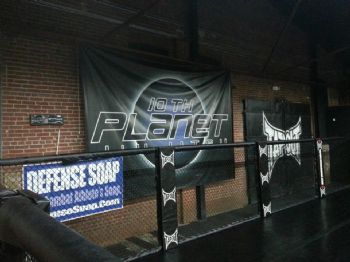 TapouT Training Center, downtown Los Angeles.
I am not the same person I was a week ago.
I knew that my trip to Los Angeles to do Jiu Jitsu training would be pretty exciting: I would be training at the TapouT gym, meeting and training with Jiu Jitsu master Eddie Bravo, probably meeting some famous people, seeing a taping of Conan O'Brien, walking by the ocean, and hanging out with the guys from the gym. My Jiu Jitsu instructors arranged the trip to train with Eddie Bravo, who is the head of our branch of Jiu Jitsu (10th Planet Jiu Jitsu). I was very excited to have the opportunity to train with him so early on in my Jiu Jitsu journey. While I knew this past week would be very exciting, I guess I was not expecting it to be life-changing.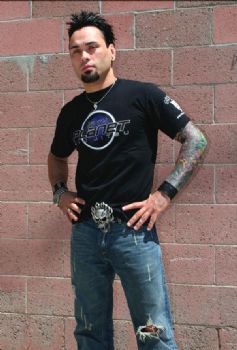 Eddie Bravo. (Image from http://jiujitsugeeks.blogspot.
com/2012/10/jiujitsugeeks-
episode-13-eddie-bravo.html)
We got in to San Diego late in the afternoon on Monday the 9th, picked up our rental cars, and drove to Los Angeles. We got there just in time for class. I thought I would be nervous meeting Eddie Bravo, but he was very laid back and easy to talk to. The way he explained things made a lot of sense, and he also made it clear that it is okay to feel and look foolish during Jiu Jitsu. I have struggled with feeling stupid when in practice, especially learning something new. Sometimes other guys at my gym act like people are idiots if they don't understand a new move within a few tries. I have come to understand that this is actually a problem for them, not for me. In order to really understand moves in Jiu Jitsu, they must be drilled over and over again. There is absolutely no way to know every nuance of every move with a couple of tries. In any case, I was happy to have my feelings validated by someone who has been practicing a long time.
After technique, we started rolling (rolling is the Jiu Jitsu term for sparring). I rolled first with an experienced guy who gave me some good tips on performing takedowns. The second person I rolled with was Victor Webster from "Days of Our Lives", "Continuum", and "Castle" (amongst other things), although I did not know he was famous when I rolled with him. He is a brown belt (next belt level down from a black belt) and is highly skilled. I knew that I might be training with him, but I did not connect that it was him when he invited me to roll with him. Anyways, he gave me a very thorough ass-kicking. I had never rolled with anyone at such a high level before and it was very eye-opening. When we were done rolling, he told me I should consider only rolling with other small people. I wanted to laugh because no one in my entire life has considered me to be a "small person." I think he realized he was a little rough with me because I saw that he toned it down with our other guys.
I had a great time with the TapouT gym members. A lot of them have been practicing for at least 5 years. I got some excellent tips from everyone I rolled with. When we were practicing techniques, the more experienced people were extremely helpful. It was also funny to me, because a few other TapouT members mentioned that I was a "smaller person." I finally told one of the guys that I probably outweighed him by a lot. He asked how much I weighed and I told him a little over 220 pounds. He told me he thought I weighed way less than that. In any case, I guess my exercise program is really reshaping my body, because I feel the most "shrunk" that I have thus far in my weight loss journey.
When class was over, we grabbed some food and went back to the hotel and crashed after our long day.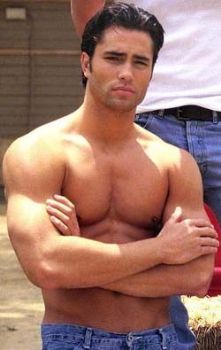 Victor Webster from "Days of Our Lives"--this guy really whooped my ass. (Image from http://www.sofeminine.co.uk/ce
lebrities/victor-webster/a
lbum840387/victor-webster-
fan-club-album-20811879.html)
On Tuesday, we had both a morning and evening training session (2 hours each). I felt fantastic in the morning class. The atmosphere and energy of the gym was rejuvenating. We grabbed some lunch after class and then napped for a little bit. Then it was back to the gym in the evening for our second class. It was again, totally amazing. Eddie wanted us all to go to Hooters afterwards to get to know each other. I sat near him and he asked me how I got started in Jiu Jitsu and we chatted for a bit about that. We stayed out way too late and had too many drinks.
Wednesday was an especially exciting and emotional day. I was going to Burbank to Warner Bros. Studios to watch taping of Conan O'Brien with one of friends from the gym. We also decided to go check out Santa Monica Pier beforehand since we had some time. I hadn't seen the ocean in several years, so I couldn't wait to walk the beach. We walked around for about an hour, and I gathered some rocks on the beach. Afterwards, we headed to Burbank to watch Conan.
At Santa Monica Beach on Wednesday: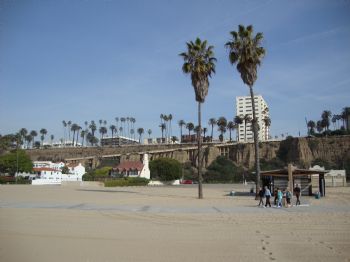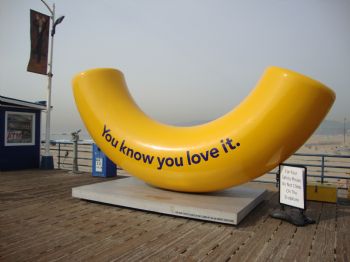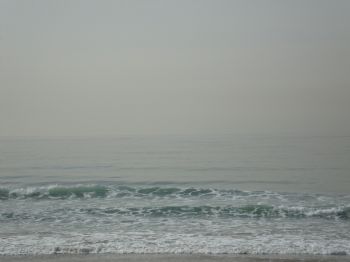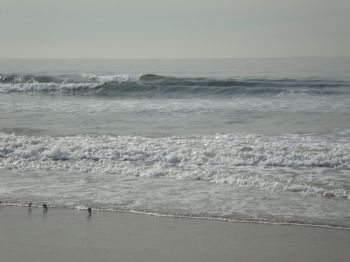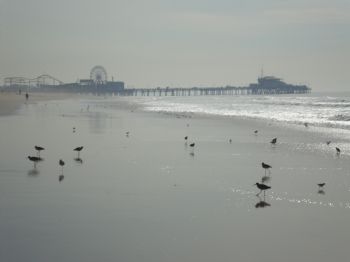 I was lucky enough to happen to be going to Los Angeles because I was considering a trip there just to watch a Conan O'Brien taping; I looked into getting tickets to watch Conan O'Brien film the second I heard about our trip to Los Angeles. Conan is one of my favorite people on this planet and I was giddy with excitement to see him live again. I have been watching Conan almost since he started hosting late night, and I had an opportunity to see him live on a trip to New York about 15 years ago. I was very much looking forward to seeing him again.
I found out earlier in the week that the guests would be Ricky Gervais, Deepak Chopra, and the band Imagine Dragons. I wasn't too familiar with Ricky Gervais, although I have seen him on Conan before and knew he was hilarious. Ricky surprised Conan with wanting to take a picture to post on Twitter, and that they would both strip down and get in a bathtub to take the picture. I was doubling over with laughter while they were doing the picture. Then Deepak Chopra came on and I loved his dry sense of humor. I think he would be up my alley, so I think I will check out more of his work. Then the band Imagine Dragons played their song "It's Time". They have become one of my new favorite bands.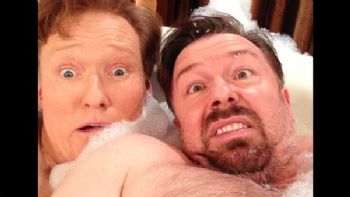 Conan and Ricky Gervais's bathtub Tweet pic. This was one of the funniest and most absurd things I have witnessed.

You can see the bit here (about 4 minutes long:
teamcoco.com/video/45834
/ricky-gervais-conan-take-
a-bubble-bath-twitpic
)
The monologue was also hilarious, especially the last couple of minutes:
teamcoco.com/video/45835
/conan-monologue-01-09-13
Music video for "It's Time" by Imagine Dragons:
www.youtube.com/watch?v=
sENM2wA_FTg
(Totally worth a listen!)
Full episode:
teamcoco.com/video/45893
/full-episode-weds-1-9-ric
ky-gervais-deepak-chopra-a
nd-musical-guests-imagine-dragons
I did not think that Wednesday could get any better. We got to class and I was very ready to get moving. We went through our techniques and then started rolling. After my first roll, Eddie called me over to roll with him. I have barely rolled with any high-level players before, let alone the inventor of an entire branch of Jiu Jitsu. I just tried to relax and learn from the experience. We started rolling and of course he was dominating me. Somewhere in the middle of rolling, he said, "Your fundamentals are excellent." I was so afraid that he would think I totally sucked, and instead he complimented me. When time was up, he said, "Good job. How long have you been practicing, 1 or 2 years?" I told him a little over 1 year. I was extremely flattered that he thought I had the skill level of someone who has been doing Jiu Jitsu for close to 2 years. I was actually a little overwhelmed with emotion after rolling with Eddie. I fought back tears of joy. He had given me the most major compliment of my entire life.
Then, after class, we all partied a little too hard again.

I didn't feel very well on Thursday. I knew I had not been eating enough throughout the entire trip (I usually have the exact opposite problem with traveling). One of the guys poured very strong drinks and I drank way too much on Wednesday, so I was hungover. I felt nauseated throughout the entire day. I made it through part of Thursday's morning class, but not through the evening class. I went and observed on Thursday night, though. I felt a little better by the time class was over.
And then we went out and partied a little too hard...again (although I did not have any alcohol).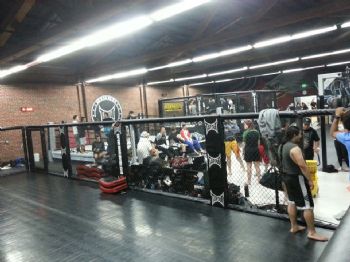 Another shot of the gym.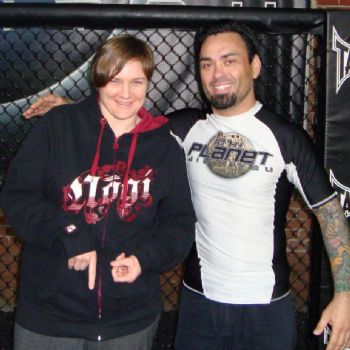 Eddie Bravo and I (he wasn't feeling well, so he was trying not to touch us).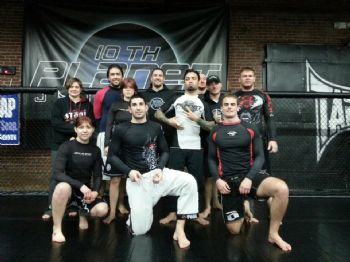 Group picture at the end of our week of training (Eddie and all of us from our gym).
Friday we drove back to San Diego for our late afternoon flight back to Minneapolis. One of the guys and I had some time to kill in San Diego, so we walked around and went out for lunch at a cool hole-in-the-wall Mexican place. We got back to the airport and flew home. I was pretty hyper for a few hours after getting home. I unpacked and reflected on everything that happened the past week.
We are going to try to make this an annual trip. I cannot imagine having a more rewarding week than I have the past week, I am sure my life has some more surprises in mind. I have returned home a different and better person. I have a new-found faith in myself and look forward to incorporating my experiences from this trip into my Jiu Jitsu practice and my daily life.