Hi, Sparkers! I'm ba-ack!
And...I'm in love. With an amusement park. Yup, I said it!
I'm not sure how many times I've been there now. I think more than 10 times? And here I am in my 30s, when most couples are taking vacations to Europe or a beachy island or something adult-ish, and this is my #1 choice destination. I LOVE IT THERE. It feels as familiar to me as coming home, and I'm lucky that Andy has hopped on the bandwagon too. He makes fun of me for going gaga over it all, but in the end, he has as much fun as I do. All we've been talking about since we got back is what an awesome time we had!
We definitely made the most of our days. My family always did Disney HARD, and nothing has changed on that front! Last Friday, after working a full day and not getting to our hotel room until 11:30 at night and being downright exhausted, we were up at the parks by 9 AM and stayed until 12:15 AM -- it was open until 1 AM, but man was it crowded, and we just didn't have any more energy (well, I would've stayed, but Andy said we needed some sleep.) The rest of the week was a fast-paced whirlwind of happy goodness! I knew that this would very likely be our last trip there for a long time, so I tried to make every moment count.
Some of the highlights:
- We stayed at the Art of Animation resort, which is brand new.
- We got to see the new Fantasyland expansion, which won't be done until next year; the new Storybook Circus, which replaced Toon Town; and the new Toy Story ride at Hollywood Studios.
- We had incredible sushi in Epcot's Japan - the best I've ever had!
- We met a really cool couple in Epcot's Germany - the husband works on an oil rig in Africa!
- We had Dole Whips for the first time, which are delicious! Man, I'm craving one now!
- We tried to explore areas that we may not have paid much attention to before, or find magical little Disney-isms in the parks that are often overlooked but are fun to do. It added a little something new to our trip!
- All the Christmas decorations were still up! (Seemed a little weird post-holiday, but my family always went around Christmas, so it had sentimental meaning for me.)
- I won an autographed sketch by a Disney Animator in the Art of Animation tour!
AND, I took a ton of pictures!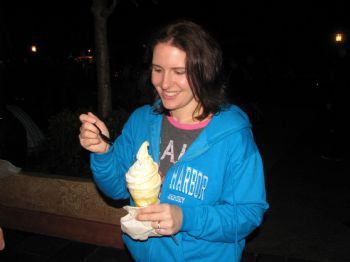 We tried Dole Whips the first night, which are a frozen pineapple dessert that's kind of like soft serve but is fat free! Do you see how big those suckers are??? But sooo good!!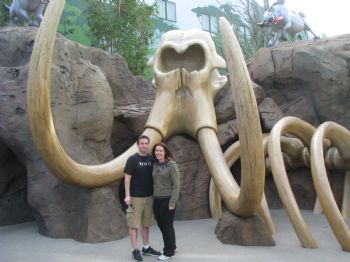 This is at our resort -- Disney certainly knows how to set the stage!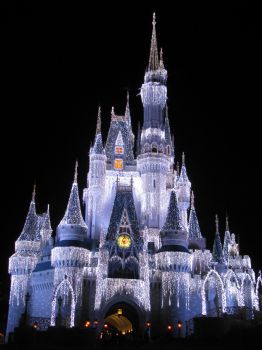 There it is: the castle, in all its gorgeous glory!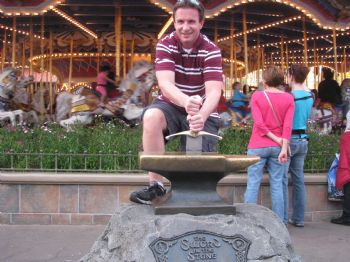 Better work on those muscles, Andy!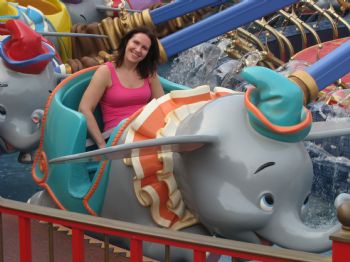 I hadn't been on Dumbo since I was five years old -- the line was always so freaking LONG! Andy didn't want to go on; he "had to finish his coffee." Hmm...!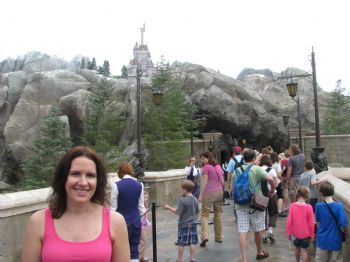 This is actually outside the new Be Our Guest restaurant (yeah, that's a "door" behind me!). It was AMAZING inside, complete with ballroom and great food! I got a quinoa salad!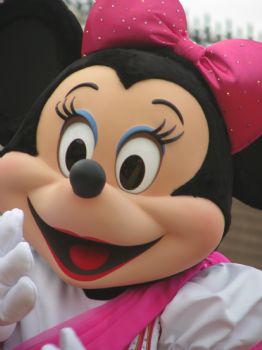 The Mrs. Big Cheese!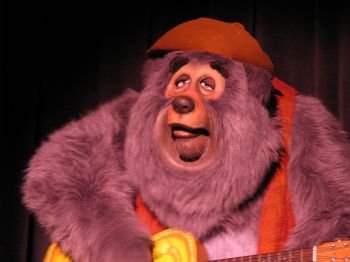 This is Big Al -- he's still playin' away at the Country Bear Jamboree! (Dude, it is HARD taking pictures in a dark room with no flash!)
Sigh, last day!
We had such a great time! AND, we actually did really well on the health front -- I packed a few things for snacks and breakfast so we weren't eating junk all the time, packed my own water bottles, and substituted fruit for any fries that came with my meal. We were often starving by the time we sat down to eat, and no wonder -- when I got home, I looked it up, and the average visitor walks around 9-15 miles per day if you're truckin'! We went bat crazy with the speed walking, so I'm guessing we were on the higher end of that! And the awesome result: I am down three pounds!!!! THREE POUNDS!!!! On VACATION!!! In DISNEY WORLD!!!
We all know what to take away from that -- I need to go there more often! It seems like a great solution for me!