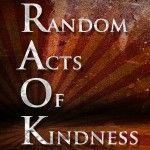 What is RAOK? It's Random Acts of Kindness.
So here are the three suggestions:
*When you bring food to work for a food day try to bring something for those with special diets like something sugar free for diabetics, low sodium for those with high blood pressure, or something gluten or lactose free for those who have an intolerance for those kinds of foods.

*If you have a desk at work then keep items to help others (especially if they aren't provided by the business you work for) whenever they may need it such as stain remover, band-aids, hand sanitizer, extra snacks, pain relievers, tissue and the like.

*Stick up for someone that you know will not stand up for themselves

___

If you want....make some more suggestions in the comment section or give an account of what happened when you did one of these suggestions.
___
Ok, maybe you've heard of RAOK but what is RAOH? Well, it's something I just made up for this blog.

It stands for Random Act of Health.
Basically, it's a way of incorporating a healthy act into one's life at a given moment just for the sake of trying to be more healthy. Even though RAOK's are for your health, too, this is just a bit different.
What I'll do here is give a healthy action suggestion in each RAOK post to do immediately and if you do it just post a thumbs up in the comments section.

These will be for fitness, food, water, attitude, intelligence, etc.
So here goes:
This one is for emotional health. It's intended to relieve stress.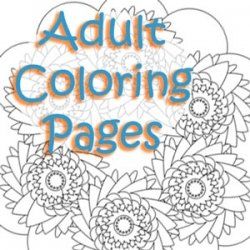 Work on some color pages.
That's right. Sit down, get some color pencils or even crayons, and color some pictures. No, it's not just for kids! Plenty of adults like to color as a means of relaxation and there are plenty of resources for adults to color pictures that don't include cartoon characters. Here are some links to try out:
www.squidoo.com/a
dultcoloring

www.squidoo.com/f
ree-coloring-book-pages
www.squidoo.com/a
uto-racing-and-race-cars-c
oloring-pages
You can find many more options simply by searching Google Images using the keywords "coloring for adults".
Enjoy!

So-
Did ya do it?
How do you feel?
___
Previous posts can be found here:
thouohlord.blogspot.com/