It is unseasonably warm in Pittsburgh right now, which doesnít bode well for the Earth but which Iím enjoying. My favorite way to exercise, if I have a favorite, is walking. I can do it, I donít need equipment, and Iím blessed to live in a city that has trails along each of the three rivers. Pittsburgh is largely rivers and hills. I live on top of a big hill so I have to walk down a big hill to get to the Flats and eventually to a trail. I didnít take a picture of the city steps I walked down to get to a through street. In the days of the steel mills, mill workers, because they were poor, lived up on the hills and had to go up and down these sets of steps to get to the mills, which were set along the rivers. So there are sets of city steps all over the place.
This isn't what they (meaning the city steps) look like, but I liked seeing the city through the fog this morning. Also, it's warm today but we had several inches of snow, and you can see some of it that hasn't melted yet. It is icy. Trust me.
I wanted to walk from my neighborhood, over the Monongahela River, into downtown, over the Mon again, and back to my neighborhood. So that's what I did. It was, I think, somewhere between 4 and 4-1/2 miles. I'm going to map the route I took. I've been taking these walks since the late summer and I have a few routes I know. This one may be a new favorite.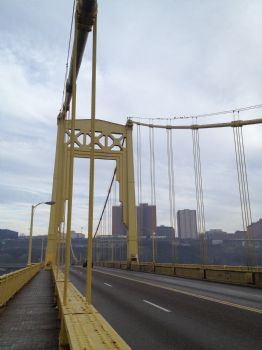 This is the first bridge I crossed, the 10th Street Bridge. Most of the bridges in Pittsburgh are yellow.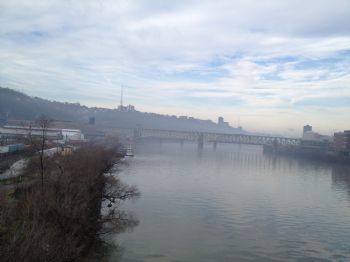 This is a view down the Mon toward the convergence of it with the Allegheny River. Together, they form the Ohio River.
Because there are lots of hills and mountains here, there also are tunnels. This one is called the Armstrong Tunnel, and you can walk through it (though I don't like to) and pretty much into the campus of Duquesne University.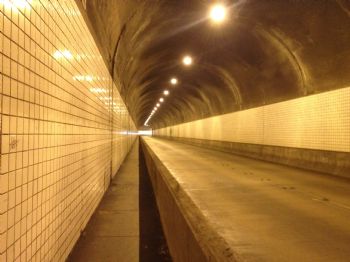 This morning's walk was great because I didn't run into many people. It wasn't even that early! And there weren't many cars traveling through the tunnel, either, which was great.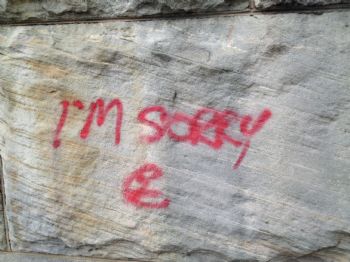 I like graffiti, sometimes, and I liked this. i wonder who is apologizing to whom, and why. This is right where I emerged from the tunnel.
Pittsburgh is really a cool city with some cool architecture. Like this. I love that I can walk through this city and find so many things that to me are beautiful or just weird enough to remember through a quick photo.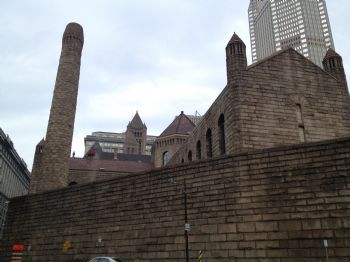 This is the Smithfield Street Bridge, which connects downtown with the South Side. See? Yellow.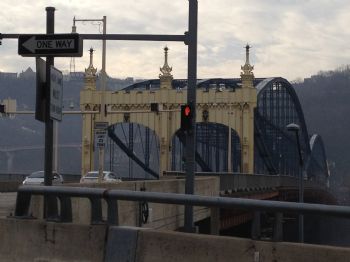 From here I entered the Riverfront Trail so as to avoid the main street, whose sidewalks are questionable. And maybe still icy.
One of the other things I like about where I live is simply the trains. There are active train tracks all over the place. I love lying in bed at night and hearing a train go by down the hill.
That's the bridge I crossed over at the beginning of my walk, by the way.
And just to remember that it is January, not May, here's a picture of the wintertime sun. From here, it was just about half a mile more to Starbucks and my iced coffee.