As you know I'm trying to deal with my bingeing issues. As a part of that I am starting a little LOVE YOURSELF | LOVE YOUR BODY campaign. Not sure what all this will entail but you have to start somewhere!
Today it just consisted of searching out quotes and images of positive love yourself messages. DOVE has had a campaign, Here is another love you body campaign I found online..
loveyourbody.nowfoundati
on.org
I know there has been others. But I feel like it's high time I had one for ME. (and anyone else who wants to join in!) :)
Found this that I thought is a great jumping off point..
Reasons Why You Should Love Yourself
1.You deserve to be happy, so just do it.
2.It'll make yourself more beautiful, both inside and out.
3.It's the best thing you will ever do for yourself.
4.It'll make you happy.
5.You will become a more positive person.
6.You'll love life more and appreciate a lot.
7.You'll make yourself smile every time you see yourself and be proud of who you are.
8.You'll have a positive outlook and attitude.
9.You may change others around you.
10.It will change your life.
WE CAN DO THIS! WE WILL DO THIS!!! LET'S START WITH LOVE!!



DAILY AFFIRMATIONS



I am beautiful. I am strong. I am more than enough.
___________________________



DAILY QUOTE



"Loving yourself and your body will actually bring more love INTO your life. You get back the love in life that you put out and it only takes seconds to shift from negativity to self-love. You can start right now by embracing your negative thoughts about your body and then repeat to yourself, "I love my body." This subtle shift in thinking will actually bring more love into your life immediately."
— Linda Marie
___________________________



DAILY DOSE OF SELF ESTEEM



I'm starting a LOVE yourself campaign! YAY!
I did pretty good with not bingeing yesterday. There was one moment I could have done better but I'm getting there. :)
I made up for not sending spark goodies for a few days buy sending out a good handful. (a spark goodie a day is part of my random acts of kindness)
I went ahead and switched the laundry and did another bit of dishes last night even though I didn't feel like it and just thought of waiting until morning. So glad I knocked it out last night!
My fitbit is my friend. I LOVE it and I'm committed to letting it help me keep pushing forward in getting more steps in daily and increasing my activity levels!
___________________________



DAILY ACCOUNTABILITY LOG




162 Days Until our Disney Cruise!

12th Blog of 2013!

GOAL WEIGHT:132 | TODAY'S WEIGHT: 151.6

GOAL STEPS 15,000 | YESTERDAY'S ACTUAL STEPS: 9,813

TAKE YOUR VITAMINS!! | Yesterday? YES!


How was your eating yesterday? Not Bad

GOAL: 8-10 GLASSES A DAY!! | ACTUAL: 8


Cardio Session? Slow treadmill walking and didn't get to my 15,000 steps. :(

10-minute Toning Video? No.

Tracking? How are you doing with tracking? Not.
___________________________
WEEKLY ACCOUNTABILITY LOG

RAW WEDNESDAY! Did you have a day of only RAW foods?

Random Act of Kindness? Starting with sending at least one Spark Goodie a day.

Saturday Weigh-In Goal: 146
___________________________
MONTHLY ACCOUNTABILITY LOG

Did you write your letter?

FEBRUARY 1ST GW: 146
___________________________



MONTHLY GOAL WEIGHTS!!






HW: 205 | CW: 151.6 | GW: 132




JANUARY 1ST 2013 SW: 147.2
FEBRUARY 1ST GW: 146
MARCH 1ST GW: 143
APRIL 1ST GW: 140
MAY 1ST GW: 136
JUNE 1ST GW: 134
JULY 1ST GW: 132
AUGUST 1ST:
SEPTEMBER 1ST:
OCTOBER 1ST:
NOVEMBER 1ST:
DECEMBER 1ST:



57.4 DOWN!! 15.6 TO GO!!



___________________________





THIS YEARS RESOLUTIONS
Resolution #1: NEVER GIVE UP!!!!
Resolution #2: BE PROUD!!! BE POSITIVE!!!
Resolution #3: COUNT DOWN TO CRUISE!
Resolution #4: Do SOME sort of exercise everyday. Wether a few crunches, 10 minutes or an hour of cardio or an hour of yoga. DO something to benefit your health (mind, body, and spirit) Start TODAY!!! And EVERYDAY!!!
Resolution #5: TAKE YOUR VITAMINS!!!
Resolution #6: STOP CHEATING!! Gain Self Control and Willpower
Resolution #7: Continue BLOGging! (#7 & #3 go together like 2 birds of a feather) :)
Resolution #8: 15,000 FITNESS MINUTES IN 2013!!
Resolution #9: AVERAGE 15,000 STEPS A DAY!!
Resolution #10: Keep working on Tracking EVERYTHING!! Food and water and weight and fitness. EVERYTHING!! I CAN DO THIS!!!
Resolution #11: RAW WEDNESDAYS!!!
Resolution #12: Complain less, Compliment more.
Resolution #13: Regular Random Acts of Kindness
Resolution #14: Write more letters! Start actually handwriting and mailing out a letter at least once a month!
___________________________



DAILY MOTIVATION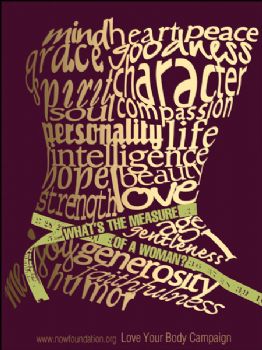 My Daily Motivational Pics will be self love themed for awhile I think. As part of the LOVE YOURSELF | LOVE YOUR BODY campaign and all. :P