As I hopped into my sons car on Thursday evening, on our way to karate, I said cheerfully to him,"I'm going on a 10 mile hike with Chicchantal tomorrow"
Now this was an euphemism. What I meant was:- I'm going on a 10 mile hike tomorrow, please don't cripple me again like last week!!!
So then we spent 90 minutes twisting ourselves (our legs especially) into impossible positions, knackering our hamstrings, doing and holding long stances, kicking up and down the hall, etc. My legs were actually shaking towards the end.
Moving on to Friday morning, and I am meeting Chicchantal at Loughton station at 9.30. We started walking uphill towards Epping. The first bit was along the Loughton road, and I thought my luck was in as Chicchantal suddenly darted right, down a path that led alongside a pub! It turned out to be a false dawn however, as it just connected to another road. On the first hill I had to stop for a breather, my legs were like jelly, but, hoping that they'd soon get over it, we pushed on. The first real section was, as usual, MUDDY! But we soon came out onto a proper gravelled path, which was a lot easier. We found a lake
I think this was the dragonfly lake, but I'm not sure.
One day we will walk under a clear blue sky, in sunshine, (I wish!), but as always happens, it was raw, grey and getting foggier by the moment. The conversation was punctuated by - 'you normally have a really nice view from here'
After an hours steady walking, I had been promised a tea stall, and lo and behold, just as promised, there it was! MECCA!
With visions of a bacon sarnie (with brown sauce) zapping my synapses, I hastened on. Alas, no bacon :-( but a cup of tea, and a slice of fruit cake were very welcome.
The forest was very quiet, and peaceful. All the trees in this part have been pollarded at some time, and their trunks have grown in to some really weird shapes. Having a vivid imagination, I pointed out an otters head poking out of one trunk, and a crouching man, with his head stuck into another! Dead trees are made safe, then left to rot away.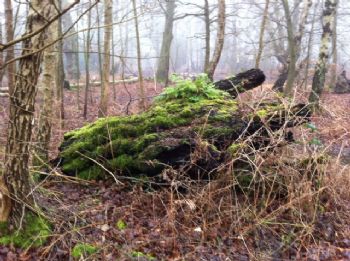 This one had an interesting fern as a topknot.
Chicchantal found some 'shrooms on this one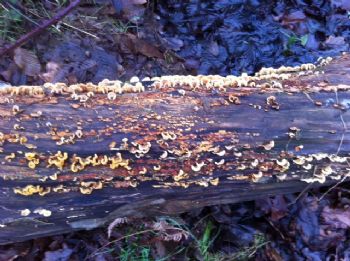 There's not a lot you can say really about trees, but we chattered away, as we followed the trail up hill and down dale.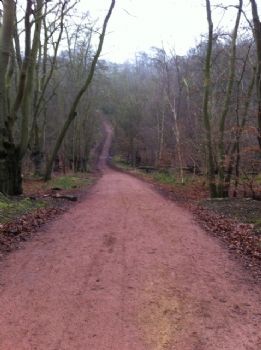 The cake had obviously provided some much needed calories, as we didn't even pause for breath, or stop talking, on the up bits!
We had been walking a couple of hours when we stopped for Chicchantal to consult the map, and were surprised at how close to the end of the walk we were. A lot of the rides were morasses, so we took to the pavement and walked beside the road for the last mile or so, past a building that 500 years ago had been Queen Elizabeth 1 hunting lodge. Unfortunately it is so restored that not much of the original is left. Next to it is a pub!
It was mentioned that as soon as the word 'pub' was spoken I speeded up! Like a horse scenting its stable! We walked on past however.
But Chicchantal found some more 'shrooms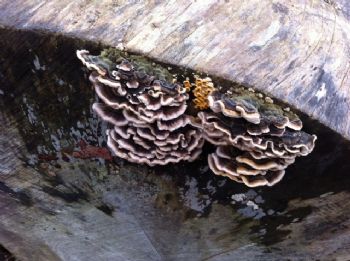 We finished in Chingford. Sitting on the train to go back, we consulted my Fitbit. We had realised that the walk had been somewhat shorter than we had expected, but we were disappointed to discover it had only been 7.3 miles.
But thinking about it, we'd gone a lot faster than on the first walk we did together, and that was 7.8 miles. I never would have thought that I could have been disappointed at it ONLY being 7.3 miles!