Quick note to say, "Hi, I'm not dead! I have not dropped off the face of the earth OR been abducted by green dudes (bummer on the last, cuz, I'm curious)"
So, I'm ridiculously sleep deprived and Sleep Deprivation makes me a skank. Any food that walks through my door I just smile and open wide.
Nasty. I know, I know, but, oh-so-frikkin' true!
I'm justifying my indiscretions and realize I'm doing semi-tallies on my caloric consumption.
It kinda goes like:
"So, I had a coffee, but, just a bit of milk. Ugh...I guess it was a half a cup, but, it really didn't do a good job of making my nasty coffee sexy ...I'll take an one ounce caloric hit on that coffee. That's all I'll own.
Then for breakfast...what the h3ll did I eat for breakfast? *yawn*. Wow, it must not have been good. I think it was...a bran muffin..well, something was under all that butter...
note to self: bran muffins give me flatulence like 5 hours after consumption. Which, (FYI) is friggin' embarrassing when your boss decides today would be a great day to play friendly and you end up having all the chambermaids migrate to the room you're cleaning for some moral boosting. Which includes topics of sex, hotty factor and kids. In that order.
awkward time for the bran to kick in...
Okay so for lunch. OMG... I was trying to impress the new girl by not eating my whole entire raisin scone. Why? Am I hoping we hook up? No. No, in fact I want her in my corner so that together us two really cute blonds can shut down that hormone laden dude that makes us coffee hoping for sex. Yes, my husband knows and he had proposed that I apply for a job at his work because the pay is better (PLEASE, my hunny just wants to crush lewd dudes).
Where was I?
The scone.
So, I ate most of it and then took a couple bites of my apple. My tummy was warring with the muffin and my brain was thinking that I really, really love my job but almost doubling my salary for 3 months of hectic might be worth avoiding lewd dude and the mean girls.
Mean girls (Yes, we're on another Rabbit Trail of thought, again.) HOLY CRAP women are so insecure they turn vicious on the new girls. Mind you I've always picked independent jobs so, this team thing is so 'campy-fun' to me, but, the con is inferiority complexes. I really, really, really wish that random slapping wasn't illegal. The mean-spirited things that come out of some of these women's mouths breaks my heart.
So, I'm getting stressed out just thinking about leaving a job I love at this moment because;
A. I want to see lewd dude totally get his just desserts when his girlfriend finds out he has been trying to hit up house wives.
and
B. I want to whip those mean biznotches into shape. I have them trained not to speak ill of anyone without me taking the underdog's side. I don't tolerate them kicking someone when they're down. Which is more respect than they deserve when their dirty laundry gets hung to dry I will try to help them save face. Well, not the lewd dude. There is just something so pathetic about a dude that hits on married women. They're lazy.
So, hubby said those are not good reasons to stick it out at the job.
I kinda sorta think it's enough to make me happy...
Anyway, job choices and being a Food Skank have me a bit deflated.
I tried hooping a Dance Party Friday but I'm so tired that I am not co-ordinated. I videoed some and then I thought, "Stop posting videos People think you're vain, simple and annoying."
But what would I think?
Isn't that who I'm trying to keep above board?
How about we (I) teach those insecure, imaginary biznotches a lesson that they can not, will not, or ever suck the joy out of my day.
ever.
I'm too tired to mother biznotches the world over. What were their mother's doing instead of teaching their children to love others anyway?
Not hula hooping, that's for sure.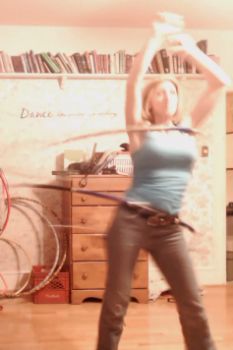 SO, I think I need to figure out how to accommodate sleeping in my life...so that I can focus on things like responsible job decision direction and how to more efficiently make the biznotches my biznotches.