Friday, January 11, 2013
In A Gathering of Goddesses team we have been making Goal boxes and Blessing Jars.
The goals box is just that a box that contains your goals that you have achieved. The Blessing Jar is for all the things you are grateful for.
I have made mine and have also got a box with note paper in and has a draw at the bottom. In the draw I have put the goal I am working on for the coming week when I have achieved that goal it goes into my goal box. This means I can see all the goals I have worked on so I can see how far I have come.
In the Blessings Jar I am adding the things that I am thankful for this year, that have way at the end of the year I can look back and see all the good things that happened.
I date each slip of paper and add my goal or what I am grateful for.
Here they are:
My Blessings Jar, it has the Runic Symbol of Wunjo as this is the rune for Joy. I added some self sticking rhine stones to it and some dots of bright coloured paint as well just for fun.
My Goal Box has clocks on it and I added gold lettering of 'goals' and gold corners to make it look special. I chose clocks at it represents the time taken to achieve my goals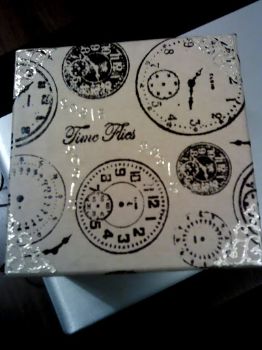 Note box with drawer: the flowers are Dog Roses and the Peony. The dog Rose is a symbol of simplicity and joy and the Peony is a symbol of good fortune. The pink paper is for love and put all together it means Joy, Love and Good Fortune all part of my goals box and blessings jar.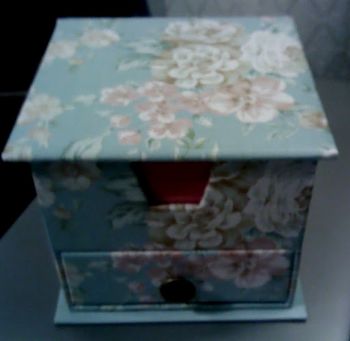 So my jar and box will contain all the things I am working on and grateful for during 2013. At the close of 2013 I will add the notes to a scrapbook so I will be able to look back on what I have done for myself in 2013.