Friday, January 11, 2013
I love Sparkpeople, I really do. But once I sign on, I don't get anything done!!!
I gotta post this, and track that, then check into some inspiring Sparkettes and Sparkmen ....
BUT GUYS, my house looks like it was hit by a tornado. Okay, okay, it's not Sparkpeople's fault.
It's four children who do not know what a hanger was made for.
It's sports-minded boys who set up a hockey tournament in front of the fireplace.
It's a husband who thinks his big muddy boots look fabulous in the middle of the living room.
It's a dog who drools all over the patio door and windows chasing squirrels from outpost to outpost.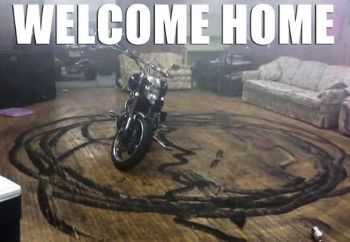 And it's me, who procrastinates in front of the web.
So toodles for today! I've got some digging out to do!!!
**** P.S!! My son just came up, saw the photo of the motorcycle ride through the living room I posted and said,"Someday I'm going to do that, too!"