Friday, January 11, 2013
Sorry for the lack of blog entries of late , but we seem to be having internet connection problems at the times i am online, and i have been out and about alot more , doing exercise and having Dr's appointments etc.
True to his word Kenzie has taken me out walking ( or in my case marathon walking) every day so far. He has been getting up earlier and making the most of the nice (if not cold) weather we have been having. I think that i slow him down alot , but it is nice to be able to visit different places and just love the beauty of them. (trouble is my legs feel like the end at the knees in sharp horrid pain, but at least i am doing it)
He also got me some beautiful flowers ,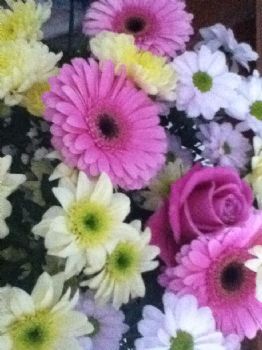 which Keiko liked the smell of and would have liked to taken in her bed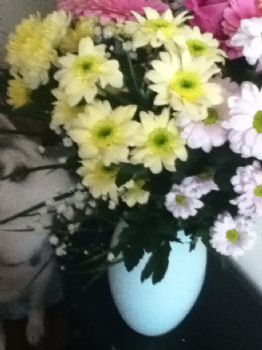 for having a weight loss of 1.7 kg over the christmas holidays. ( i am so pleased with this as i worried that i may have gained because of the extra food that i had.. (although none of my days had said that i had gone over calories , and on some days i had under eaten it was different to my normal food consumption)
Whilst we were on our travels we also found some different herb seeds to add to our growing stash , and i can see that the herb garden is going to look beautiful. Among these is purple basil which i have wanted to try and grow for along time ( as i like my food plate to have lots of different colour on it.)
Hope everyone else is having a good January... i know i am.