Friday, January 11, 2013
So you know that I can only go so long without posting pictures lol. The 12 week challenge is going well. So far since I started I am down 3 lbs (I started Jan 3rd, but the challenge officially started on the 6th). Working out has been much more consistent for me this week. However, I did have to put a hold on the Brazilian Butt workout. A few weeks ago I did the elliptical for a short amount of time and I am guessing that I pulled my left hip flexor. A week and a half later it was still sore and then it started feeling worse. I decided it was a better idea to take it easy on the lower body. At the gym this week I focused more on arms and I walked non-vigorously. I am hoping that next week it will be back to normal and I can do some of my lower body workouts that I enjoy. So far it has been feeling better, but I didn't want to risk an injury.
I am also excited to say that my boyfriend has been noticing a difference in his clothes. He wore a 1x v neck long sleeve shirt/sweater that is almost a thermal material and just bought some button up shirts and polos that are 2x's. He was a 4x! His weight has stayed the same and he went to the gym with me this week for the first time since probably the summer, but eating better must be making a difference. I am very excited and proud of him! He has always been close to the same size, so this is his first time ever wearing smaller clothes. Here is a picture I forced him to take while we were shopping yesterday. lol
I took some better "before challenge" pictures, so here they are. If you don't want to see my underwear then click away now lol. Since I am really trying to look for a difference in muscle definition it is easier to see with less clothing.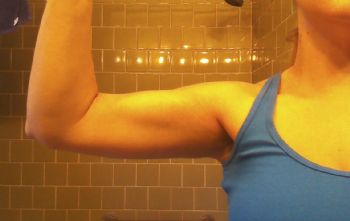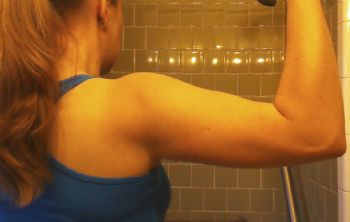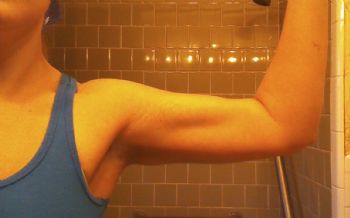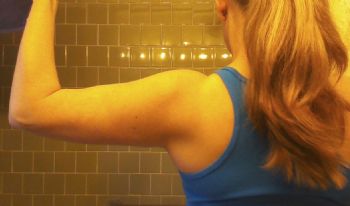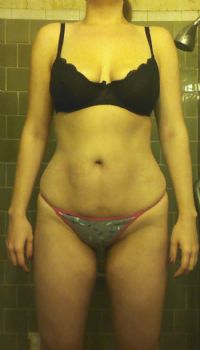 Here are some pictures I took a day or two later just lounging around the house. These are my pre-ab pictures lol.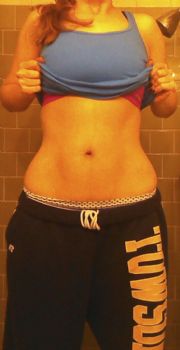 Here is a picture of the outfit I wore last night. I was feeling in a loose shirt kind of mood. It was a great feeling because even though the shirt was slouchy I felt pretty tight and small underneath. I am also noticing that these blue pants that I bought in Puerto Rico on Thanksgiving are starting to feel a little big. I am not necessarily excited about this because they were from Express... but I guess that is good that I am still getting smaller:)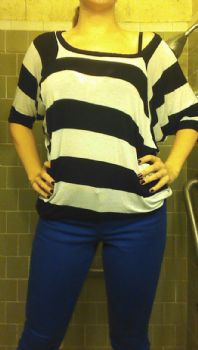 So far I am on track to reaching my goals and I won't get discouraged about getting BEHIND with the butt workout (haha- pun intended lol). Another woman at work decided to join the 12 week challenge and get on SparkPeople, so that has been super exciting! It is strange for me to get stopped by people I have never really talked to and for them to say that they heard about the website or the challenge and to help them sign up. The movement is definitely spreading. Hope everyone has an awesome weekend planned!