First Workout at church
Thursday, January 10, 2013
What a day. Dropped off girls t school oldest is having a New Years dance tomorrow at school and they needed more sparking grape juice. So first thing this morning we went shopping for a few of those. We used a gift card we got for Christmas. Wanted Pizza Hut for lunch but they did not open for another 20 minutes so we went home. Devine intervention ? Hubby made me 2 veggie pizza burgers for breakfast I put 4 crushed red pepper tortilla chips in the middle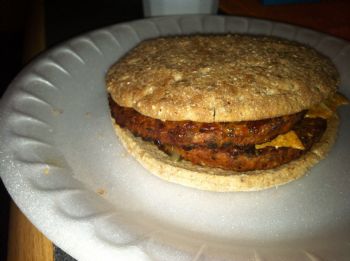 My ear is still bothering me so I picked up oldest and went to stat care. It seems I have fluid behind my ear with out the infection so they gave me Allegra D. I really hope it helps I'm miserable but I have been miserable for a while now. I have a headache today as well. My oldest and my mom went to our church tonight meet up with a couple from my new tops group was there which was nice I was not the only big person there. Half the group went upstairs to do Insanity and the older and bigger stayed down and did the first Slim in Six DVD together. I did pretty well for not working out in so long. It reminded me of a Walk Away the Pounds DVD so my body knew most of the moves. Came home and got sick lol reminds me of Biggest Loser. Next week my oldest is going to do the Insanity. My hubby's nephews wife was also at the workout. I'm tired and so ready for bed. Going to try to read some tonight.
Talk to you tomorrow.
My middle girl reading me Green Eggs and Ham to me for the first time. I'm so proud of her.