February 8th is the official day when I go shopping for my wedding dress!!
Eekkk!

I am both excited and nervous. Excited because....well I get to try on pretty, frilly, sparkly dresses like a princess all day. Nervous because I am heavier then I wanted to be at this time. I don't want to look like a white blob on my wedding day.

So to keep me motivated, I just keep picturing a few of my favorite dresses. I also keep in mind that not all these dresses come in or cost more for their plus size counterpart. I REALLY don't want to wear a plus size dress.
I am getting married in Vegas at the Valley of Fire. I want some fun, different and flattering. This is also my second marriage so I really want something unlike the first dress. My first wedding dress was big, traditional and made me feel like a princess. I really want that same feeling this time around too.
Here is what I was thinking:
I LOVE the bottom half of this. I want lots of texture to my dress and no train.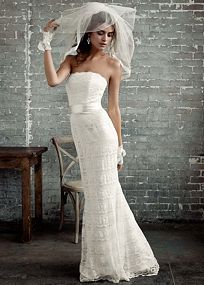 Okay so this dress may not be the best for my body type. But I am loving the lacy. I have to be able to move around alot that day (Valley of Fire is a dessert). I don't think I could move too much in this dress.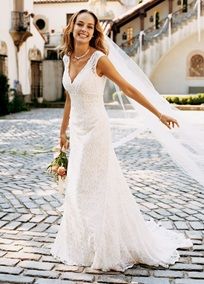 I have loved this dress for so long now. Before I even met my fiancé I started planning a wedding and saw this dress. LOVE IT! And.....
it comes in plus sizes! But notice how much happier then thinner model looks? And do you notice the dress loses a little something of the heavier model?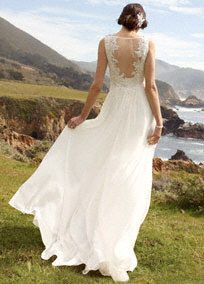 Lastly, this is the dress I have been drooling over lately. LOVE the back. LOVE the front! I would love to have this dress. But it only goes to a size 14 and plus sizes are special orders meaning $$$$
So I need to keep at it and get my exercise in, eat right and drink my water. I am thinking of posting these on the wall where my elliptical is.....