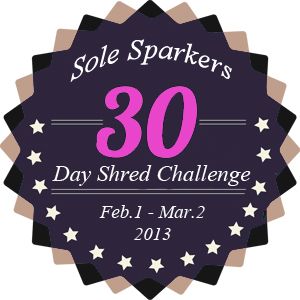 teams.sparkpeople.com/so
lesparkers
The Sole Sparkers Team Proudly Presents The Jillian Michaels 30 Day Shred Challenge!
When: Friday, February 1st - March 2nd - 2013
This will be a great challenge to help us shed some pounds and get in shape together. Closer to the event I will post a new thread in the Team page so we can record out daily progress and anything else we would like to comment on for the day challenge.
I love seeing if the promises deliver and what sort of results can be achieved in the 30 days.
I personally have only done the DVD once and I have to say it is a challenge. But remember safety first and go at your own pace if you must, some is always better then none at all.If you can't use the weights then don't. Adjust so that you can achieve it!
Come on Sole Sparkers and shred with me! See you Feb.1!
PS: If you are going to do the Challenge and you would like to use my logo above then please right click, save and then upload to your photo's and enjoy!
-------------------------
RULES AND INFORMATION:
Things You'll Need:
Jillian Michaels' 30 Day Shred DVD
2 or 5 lb. dumbbells (free weights)
Countdown Calendar:
Print out and get some fun stickers! Or make your own :o)
pinterest.com/pin/527772
4533800747/
Just scroll down till you see the calendar on her page, left click the picture then right click to save, then open it up and print!
I like this one too, this is the one I am using :o) the measurements are right on it.
piecesinprogress.tumblr.
com/
1: Before you start Jillian Michaels' 30 Day Shred, take your measurements. You'll be glad you did later. Measure each arm (thickest part), each thigh (thickest part), upper waist (smallest) and lower waist (at your belly button), and your hips (biggest part). Write this info down, or put it in Excel so you can come back to it after 30 days. This work-out will probably cause you to lose weight, about 10 lbs, but that can vary. You will definitely lose inches, however, and develop tone that will surprise you. The reason your weight doesn't drop as quickly is because you are developing muscle and reshaping your body.
2: Get yourself a copy of Jillian Michaels' 30 Day Shred on DVD (or VHS) or your preferred method.
3: Set aside a time of about 30 minutes each day to do Jillian Michaels' 30 Day Shred workout. You really need to do the program EVERY SINGLE DAY for results. It's very difficult in the beginning because you will be so sore, it will hurt to live. Jillian says work through the pain. Do not stop or wait until the soreness subsides, and you will be amazed at the change in your body in just a week., BUT make sure you are not hurting yourself go at your own pace if you have too. NO injuries Allowed!
4: Start with 2 lb. dumbbells and work up to 5, or start with 5 if you think you can handle it. Jillian Michaels and the other fitness instructors are using 5 lb. weights in the video, but they are advanced trainers.
5: Jillian Michaels' 30 Day Shred is designed in three levels to be done over the course of 30 days.
Level 1 for 10 days,
Level 2 for 10 days
Level 3 for 10 days
When you finally can complete Level 3 of this fitness program, stay there if you like, or mix it up every once in a while. Also if you choose never to do it again you also do that....lol.
You do not have to move up every 10 days.
6: At the end of 30 days, take your measurements again, even if you are only on Level 2. You are sure to see a change of about 1 to 2 inches in most parts of your body. This will probably put you down a dress size. In addition, you will be stronger, more toned, and actually in shape. You'll be glad you let Jillian Michaels kick your butt.
Come on Sole Sparkers! See you Feb.1st for Day 1!
____________________________
______________________
****Please take on this challenge at your own discretion. Always consult your physician before beginning any exercise program. This general information is not intended to diagnose any medical condition or to replace your healthcare professional. Consult with your healthcare professional to design an appropriate exercise prescription. If you experience any pain or difficulty with these exercises, stop and consult your healthcare provider.