Surprise Avocados
Thursday, January 10, 2013
I was on the right track yesterday and starting to feel better physically, after days of feeling ill from eating too much lately. Then my husband walks in the door with these...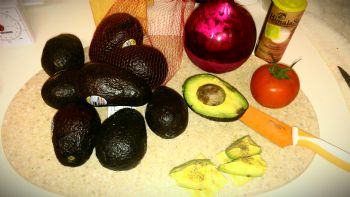 He was at Kroger and saw that they were on sale and perfectly ripe. So he gets a hankering for some homemade guacamole and tortilla chips.
So I consumed another astronomical amount of calories yesterday. I don't feel ill today but I also don't feel hungry- so I'm going to eat, but I'm not going to eat as much as I had planned. I don't want to eat too little because I've been SO vulnerable lately and I don't want to trigger a binge.
Anyway- I had considered not doing the food blog because it's going to be boring and uneventful but I really need an incentive to get back on track so I'm going to do it anyway.
We watched the Hungry For Change documentary last night (while we were pigging out... LOL!). While it's really nothing I didn't already know, it kinda gave me motivation to keep to my resolution to get the entire family on board with eating cleaner. My husband is definitely on board and my kids seem to be adjusting pretty well!