Yesterday
Thursday, January 10, 2013
was a mix of emotions. DH and I didn't get along for most of the day due to his yelling at me for every little thing possible. I swear if I had said the sky was blue, he would have yelled a response. I have tried explaining to him that this is how he responds to most of what I say anymore, that it doesn't matter what it is, but he either doesn't get it or just doesn't care. I don't know which. Nevertheless it makes for some very stress-filled days. Yesterday was no exception.
Anyway by the time we picked up our grandson at 4, he had stopped thankfully. Our daughter was in a better frame of mind too nonetheless I decided to keep my side of any conversation we had to a minimum. DH and I took our grandson to his favorite play place where he let off some left over energy from a long day at school than out to dinner at a Japanese Steak House, a family favorite where my grandson is literally known as The Sushi King. He has been eating Sushi since the age of 2. And as he would say, its because, "He is cultured!"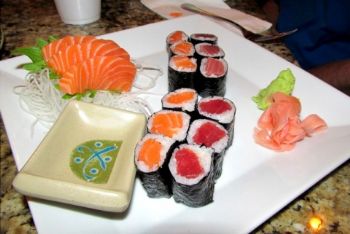 Thankfully the day ended on a much better note than the previous five. Spending a little time with Toothless

(he lost his 1st tooth this week) has helped to off set some of the stress I have been feeling lately. And I'll take any little joy I can get these days amongst the ongoing battle with the husband and daughter.
A further note, eating has been on target this week despite the emotional upheaval EXCEPT for yesterday. I ordered the Chicken and Shrimp at last night's dinner, complete with fried rice, grilled vegetables, soup and salad, and ate every last satisfying, sodium filled morsel. I consider that over-kill on my part. Normally I would have halved it but last night I just didn't feel like doing that. It was a conscious choice, definitely not mindless eating. Nevertheless later my stomach let me know that doing so wasn't a very smart idea. Lesson learned!