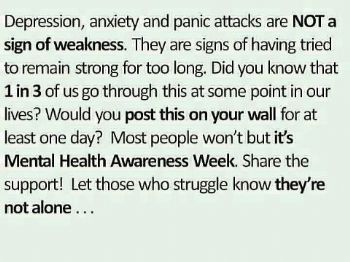 A friend sent this photo to me to show support for what has been happening lately. I guess the big question after a blog like the last one is, what do I say? I am seeing a therapist finally and we have made some good gains. While this is not the only reason why things are happening the way they are but I felt to put this out there in case if anyone else is having the same problem.
My shift work schedule has played a big role in my depression. It is predictable. I might be going along ok then my swing to night shift happens and pow, almost with Swiss watch dependability, I start having problems.
#1) I spend 7 days straight in total darkness either resting in a blacked out room or on the job.
#2) In an attempt to not mess up my sleep time because the times I CAN rest are so unpredictable, I dont interact very much with others, family etc...
#3) The disruption in my body's natural cycle throws everything out of sync.
If there is a time I am going to have an episode, its nights. If I am going to binge, Its nights or the weekend off after my nights where I am so happy to get off of it that everything gets tossed to the wind and I pick up the pieces come the start of afternoon shift. That is NO way to live much less try to live a healthy lifestyle. While there are other issues and forces at work, there are some very REAL physical problems that can be addressed that will help keep the depressive triggers to a manageable level.
After 5 years of shift rotation, I am finally running out of gas and need help coping. Quitting my job is not an option.
I have had a few sessions now and the therapist is pretty impressed with how organized I am and how well I have things documented so that we can get to the root causes quicker.
The one thing I have learned so far is that depression and anxiety is very REAL and I would take issue with anyone who would tell someone to just "get over it". I used to be one of those "get over it" types and would work through my own issues but some of this is very much a physical problem.
I have a hereditary history with others in my family who have it so the inclination is there to start with then add in the physical triggers caused by night shift and there is a potent mix that I can no longer "just deal with it". I can no longer "just deal with it" any more than someone can just deal with any other physical problem that requires an intervention.
I have gotten much better and have leveled off since getting off of nights. I am back to a regular routine of fitness again although it has been slow in coming. This last episode really knocked me to the ground but it is what it is.
I am not whining, just acknowledging the issue. Blogging about it helps me cope. I am not looking for sympathy or attention, just a sounding board and solidarity.
Far too many people try to play cool and act as if there isn't a problem. Why is it that in AA they stand up and introduce themselves by name then publically declare that THEY have a problem? I am not too cool to do that.
My name is Robert and I struggle with depression. I will come out of this strong, healthy and ready to tackle my issues head on and come out the other side a better man.
So say we all.
Link To My Public Blog...
mailboxes2miles.blogspot
.com/