(I have decided to update and republish a blog post I wrote 2.5 years ago with new data and a fresh perspective. I hope you find this helpful. -Matt)
:: ART APPRECIATION 101: SEURAT
Take a look at this (admittedly pixelated) section of a famous work of art: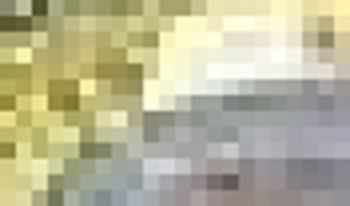 Hard to tell much about the original, isn't it? You might be able to figure out which work of art this comes from but probably not. You're too close to see the big picture. Here's the original, a famous painting by Georges Seurat entitled "Un dimanche aprŤs-midi ŗ l'őle de la Grande Jatte - 1884" It is one of my favorite pieces by Seurat and it hangs in the gallery of the Art Institute of Chicago. I've never seen the original in person but it is my hope to visit Chicago to see this painting in person one day. It is a massive painting - 2 meters by 3 meters. That's over six feet by over 10 feet for folks who don't do the metric system.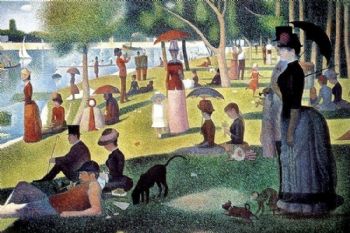 So, the first image is a zoomed view of a section of the young girl's hat in the center of the image. Seurat painted this using a technique called pointillism which employs small dots of color placed next to one another that when viewed from afar reveal the true picture but when viewed very closely only look like a lot of small dots. To appreciate a pointillist painting, you need to step back and take it in and appreciate the painstaking work that went into creating a masterpiece such as this. Seurat spent more than two years creating this painting.
TVs and computer monitors do the same sort of thing - they present the analog world as a group of (very tiny) dots which our eyes interpret as a picture.
Will there be a quiz on this material?
Yes.
Be prepared - it will count 30% of your final grade.
No, not really. But I use this to illustrate a point.
It is easy to be confused and discouraged by the daily fluctuations of your weight. Some folks find "riding the wave" of the scale to be too much for them but even weighing in once a week can lead to false conclusions being drawn - I've had weeks where there was no appreciable change and ones where there was an uptick.
In my mind, weekly weigh-ins just capture fewer data points than daily weigh-ins and these are arbitrary data points essentially which we often take to be the "truth" and from that truth we base our thoughts and feelings about ourselves and our progress. Recognizing that a weekly weigh-in is just a snapshot in time is important.
::THREE-WEEK LOOK BACK
Rather than react to every uptick and downtick of the scale, I suggest that you stay the course for three weeks before making any changes to your plan. Three weeks worth of data provides you the the ability to see a trend and it tends to smooth out the wild swings that can take place over the period of a few days or week. Other than in exceptional cases, three weeks of data gives you a pretty clear picture of reality. Let's use my own data as an illustration of what I mean here.
:: TWO DAYS
Here are two data points in December 2012. They were chosen somewhat randomly and are actual points that exist in my data. There was nothing particularly special about mid-December other than Iíd been on SparkPeople for a month at that point.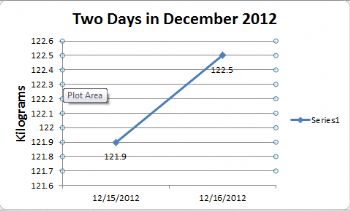 Note that I had an increase from one day to the next.
A 0.6kg uptick.
Thatís 1.3 pounds up.
Well... what do we make of that?
:: ONE WEEK
Let's step back, metaphorically speaking, and look at a week's worth of data.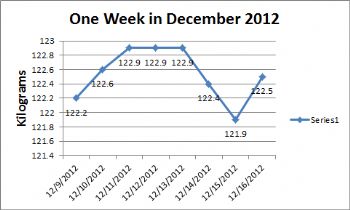 Hmm... here we see that things are up and down but it doesn't look like I'm losing any weight.
Perhaps I should be concerned.
This is OBVIOUSLY not working.
One might think that because of the mindset that we often have which says "I'm on the 1-2#/week plan and so I should see 1-2# of loss every week." but that's NOT reality.
It's only what we THINK reality should be.
REALITY is that our body mass is made up of more than fat.
Remember that.
:: THREE WEEKS
OK, so if we just focus in on a week we might be thinking that things are looking a little shaky right now. From our one week view we get the feeling we might just be maintaining or even gaining!
Before we panic and do drastic things, letís pause and use our data, OK?
What about if we step back again (careful not to step on toes, please) and see things from a three week perspective?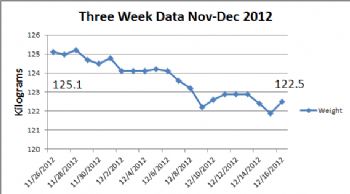 Well now, it looks like I was 125.1 kilos on November 26th and 122.5 kilos on December 16th, three weeks later. That is 2.6 kilos (~5.7 pounds) in three weeks or an average of about 0.8 kg/week lost (1.75 pounds) over that period.
Not too shabby.
It would be my recommendation seeing this data that no change to the calorie intake is required.
Everything looks good.
:: WHAT ABOUT GAINS AND PLATEAUS?
Well, OK. Letís imagine that the points in the graphs above were flipped along the vertical axis so that we are looking at mirror images of these three graphs above. The dates stay the same but the points are rearranged so that the earliest point is now the latest point, etc.
In the case where I'm seeing the data in the opposite order, it would appear that I had lost weight from one day to the next in the two day view and stayed about even for a week's period.
So in that week's view everything seems to be OK -"maintaining ain't gaining" as they say.
But if the three week graph showed a GAIN then I'd consider tweaking things. Three weeks SHOULD be enough time to see a change in the right direction. I know my own body and if I see a gain despite doing everything ďby the bookĒ, then Iím going to take the advice of my SparkFriend Rex and lower my net calorie target a bit for a week and see what happens.
If you are truly in a plateau situation, you might need to mix things up a bit.
Change up your workout routine.
Adjust the calories a bit.
Shake it up a bit.
Maybe.
Or just keep plugging along and see what happens.
No change for three weeks means you are burning about the same number of calories you are taking in.
An increase over three weeks probably means you are taking in more calories than you are burning.
By using the three week historical data (and one of the reasons I'm a proponent of daily weigh-ins is to collect plenty of data without becoming obsessive about it) you can see the ebb and flow of your weight and decide if anything needs to change or if everything is going along fine.
Let the data help you decide.
And PLEASE donít obsess about the scale.
Itís just a tool that measures mass.
It doesnít measure body composition (even the fancy-pants ones arenít that accurate) and it CERTAINLY doesnít measure your worth or value.
Remember that.
:: HOW GOOD IS YOUR DATA?
Well, that's a different question completely.
In order for your data to be of any use to you, you've got to collect it carefully and consistently.
If you arenít collecting it - how can you analyze it?
And if you are being sloppy with the data collection... well, thatís no better.
Poorly collected data can actually cause you to jump to the WRONG conclusion about what's going on with your body. This is where it is important to be diligent in quantifying what you eat and how much you burn during the day.
This involves some work - maybe 5 or 10 minutes total a day - and we need to recognize that the calories burned during any exercise might be a bit squishy.
Recognize there IS some slop in the numbers.
These are approximations and YOUR job is to eliminate as many of the components of that squish factor as possible.
Such as:
-poorly measuring things
-guessing
-making bad assumptions
-being inconsistent in your tracking
Don't ASSUME that everything is wrong just because you are seeing terrible info on the scale.
Ask yourself the question "Is your TV on channel 3?"
Meaning - am I overlooking the most obvious things?
Make sure you aren't jumping to conclusions because you are doing a poor job collecting data.
If you are doing a bad job at estimating your calorie intake, that could be the reason the scale says you aren't seeing a change.
Be diligent.
:: TAKE ADVANTAGE OF TECHNOLOGY
If it is within your budget to employ some electronic device to help you get better estimates of expended calories then by all means consider using one. Strictly speaking, these arenít necessary and I certainly would NEVER go into debt to buy one. A fancy-pants FitBit is a nice tool but is NOT necessary.
I have a Polar heart rate monitor to help me with my calories burned. It provides data which assists me in staying in the ballpark on the number of calories I am actually expending.
I don't believe for a second that it is 100% accurate but it is certainly more likely to be closer to the truth than blind guessing or reliance on a standard table of calories burned per minute.
You may have better luck with a monitor like the FitBit or Bodybugg - some find it useful but I have no firsthand experience with either of these and must reserve judgement on them until I've got some experience with such devices.
I personally use multiple sources of information to arrive at the best estimates I can. I try not to spend my entire day focusing on this stuff so I use my sources, find a number that seems to be in the ballpark and go with it.
:: THE TAKEAWAY
Slow down, take a deep breath and don't jump to conclusions if you see the scale fluctuate.
Take a multi-week view of the scale's readings in light of what you know about yourself.
Step back a bit from the picture that is your weight loss and look at the numbers ďfrom a distanceĒ where something meaningful might be observed.
Like a Seurat painting, you can appreciate your weight loss data better if you step back and see the big picture.
And, of course, remember that the weight loss itself ISNíT the big picture.
Itís just one thing about your life.
It is important but not everything.
Remember that, OK?
And hey...
Make it a great day!
Matt