Wednesday, January 09, 2013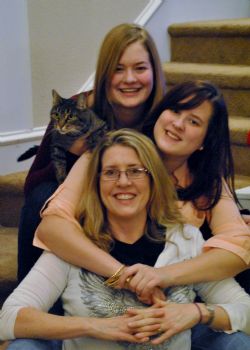 Christmas 2012 with me and the girls. One of my daughters is a freshman in college and the other is a senior in high school. Our cat - Heather.
I'm having success tracking my stuff on the Other Goals page here on SP. Helping me keep my goals in front of my face on a daily basis.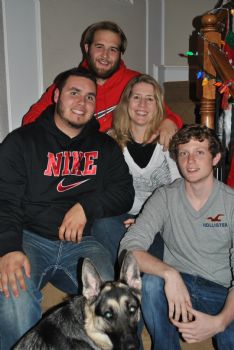 These are my boys. Red shirt - my son and the other two live with us.
So I started a P90X2 challenge with two boys and on day 2 (yesterday) my daughter joined the challenge. Today one of her friends is joining us. All the kids are between 18-20. That is definitely going to help me stay the course for the whole 90 days. I wonder how many kids will end up wanting to do it?
I feel happier this quarter. I felt like I was off track last quarter and just couldn't totally focus on my health. Thank God for a new year to refresh and start my goals over.
Seeing my doctor for a physical on the 2nd was also beneficial. My thyroid function was down 75% and changing my meds seems to have helped my energy level. If you don't have your physical done, make sure you put that on your calendar.
What is your goal for the rest of this week?