Wednesday randomness
Wednesday, January 09, 2013
Hey fellow sparkers!
SHOCKER - I packed my workout stuff to go to boot camp today at lunch. CRAZY right? LOL So, back to it. And, since I am making up Monday's class today (with the "other" trainer), I'll also be attending my regular class tomorrow. Hello soreness! But it will feel awesome.
I also packed all healthy food today. WHAT? Are things actually coming together? They may be!
The other day I posted my new Tervis Tumbler that I drink from at home. Here's my "work" tumbler! The whole company received them in celebration of the company's 30th anniversary in 2012.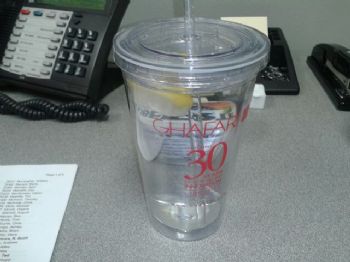 Random food tidbit - I am really enjoying Liberte and Muller Greek yogurts right now. YUM! I actually look forward to them for breakfast.
liberteusa.com/#
www.mullerdairy.co.uk/ou
r-products/muller-fruit-co
rner
Like a lot of us, I am trying to eat less processed and artificial foods. One set of making such choices is every day for my coffee. I used to use powdered creamer and Splenda in my coffee. But recently, I'm using a small amount of real (albeit white) sugar and a dash of "real" cream. It obviously tastes better, and I'm only drinking 1 - 2 cups of coffee per day. I think I would have to go with the artificial if my "real" choices were adding a LOT of unnecessary calories to my diet. What do you guys think? Are small amounts of real/natural products healthier than larger amounts of the artificial stuff? I'm thinking so. I also think that butter is "healthier" in the long run than margarine, but eating a significant amount of either means that I am not in control of my eating! LOL Let's just say I had way too many squishy soft white rolls slathered in butter over the holidays recently...so I have to be careful about portion control no matter what (often a struggle).