Wednesday, January 09, 2013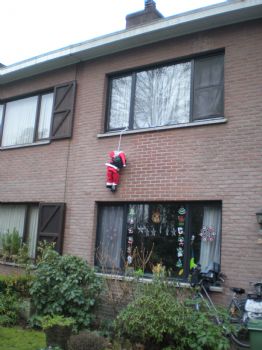 Coming from a family that always looks for the second magpie and never puts new shoes on the table at home - and from a nation that 'religiously' ensures that its Christmas tree and decorations are gone by 6th January (to avoid bad luck all year), it always feels odd to me that here in Flanders the Christmas trees, holly wreathes and illuminated reindeer can still been seen well into the New Year.
About five years ago, I noticed an influx of Santas amongst the decorations, hanging from little ropes. Antwerp was snowed under with them... a multitude of little red Father Christmasses could be seen crawling up a rope to East Flemish window sills - I remember counting 53 of them on the relatively short journey from my home into the centre of Antwerp! There are less of them this time around, and the 2012 version has the mini Father Christmas climbing up an LED rope.
Whilst out for my walk yesterday, I noticed that many of them are still there. I don't know why decorations stay up so long in Belgium - perhaps because it's so dark and miserable at this time of year that the extended season for bright lights and sparkly deco's helps to keep the locals cheerful. Going on the experiences of past years, I expect to see the little fellas hohohoing their way into February!
PS I LOVED the home decorations in America - just like on the films! Some people had really gone to town with decorating their properties - brought a huge smile to my face. Such fun!