Week One 2013!
Wednesday, January 09, 2013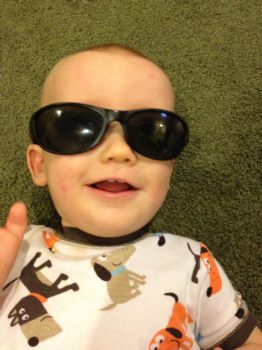 This lil man turned one year old yesterday! I can't even believe it. He's had a rough couple of days though. Bad falls. Shots. Daddy overfed him and he puked. Blech! My poor punkin! We got some good cuddle time in tonight and I got him laughing at me. His size still surprises the doctors. He's in the 97th percentile for his age group in length and head size. LOL.
I also celebrated my 4 year Sparkversary on January 3rd. Four years and still not at goal weight. Sigh. Well, its not like its going to just come off on its own right?
I had a good couple of first days of the month eating wise then we had his birthday party blah blah and I'm still the same weight I think as the beginning of the week. I took the time to batch cook a lower fat breakfast, followed by cream of potato and cauliflower soup tomorrow for lunch. Never thought of doing that until I found it on a great website, Halfsizeme.com. I've been doing alot of blog reading lately about women who have found success. I'm trying to get myself motivated, not to mention a plan I can stick with. Mostly I want to be inspired by tasty recipes. I get so bored on weight loss plans. Same ol same ol. I talk myself out of it. I was at Kmart earlier today and found the Comfort Food diet. Its a series created by the company that writes Taste of Home magazine. I found some gluten free dishes that I plan to whip up soon, especially soup for lunch options.
I would like to start juicing again too. Its messy but so effective. I loved the way one glass made me feel. I figured I could save the pulp and add it in my soups. I even heard you can add it into your pancake batter too for an extra fiber boost.
Crap! Its 1Am and my son is wide awake. Guess I better go!