Tuesday, January 08, 2013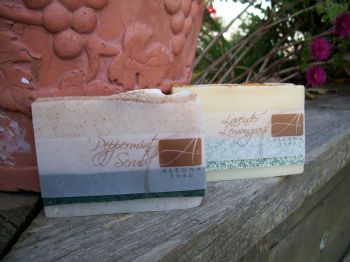 Today's post is written by my friend, Angela, owner of Alegna Soap. For those of you who are unfamiliar with Alegna's products, they are absolutely divine! Visit Alegna Soap's website and you will find soaps and bath products made with the most luxurious botanicals and essential oils that nature has to offer. They are truly a sensory experience and an indulgence.
For me, the choice to use all natural bath products over commercial bath products is like the choice to eat a bowl of homemade soup over a can of Campbell's: quality ingredients, methods of preparation that maintain the freshness and integrity of those ingredients, and a more satisfying experience for the senses. But I'm going to let Angela tell you more about that (and please be sure to comment below for a chance to win some Alegna products so that you can feel the difference for yourself!)...
(Read the rest of this post at:
www.sicilean.com/2013/01
/the-benefits-of-natural-s
oaps-and-body-products-and
-an-alegna-soap-giveaway.html