Monday, January 07, 2013
Yesterday was day 7 and I did Low HIIT 20 workout. Which is a good workout...not as much jumping as the other HIIT workouts but still a great calorie burner.
I then did Stretch 40 Class. I needed the stretch for sure. It felt so good. I really enjoy this yoga type workout.
I didn't end up losing any weight this week but I believe it's because I didn't eat as clean as I could.
This weeks goals are to:
- drink a lot of water
- eat clean
- get all my workouts in
- lose 2 pounds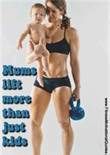 Day 8
Today's workout was Burn Circuit 1 and Fat Blaster cardio. Wow! I forgot how tough the Burn Circuits are. And I was once again reminded of how much muscle tone I lost during the pregnancy. I had to go down to 10 lbs on my chest flies were I was 15lbs when doing 12 reps and 20 lbs when doing 8 reps.
All well..I will get it back.
I feel very strong and motivated after my workouts today. I am happy to become a fit mom.