Monday, January 07, 2013
Meet my BF's fat dog, Chewy.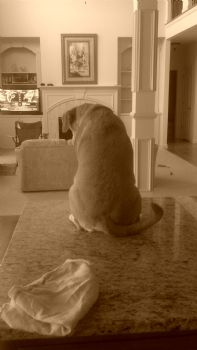 Saturday was Day 1 of her Spark program

We noticed for a while that she was getting chubbier, but now she's got a legit muffin top. She weighed in at 44.2 lbs, meaning she gained at least 7 lbs since we moved to GA! Back in NC we had a fenced in yard and 2 chickens for her to chase around for hours on end. Now she's moving a lot less and stealing food from the 2 other dog bowls. Chewy is also the official kitchen floor cleaner, so she's probably consuming a few hundred calories/week helping to clean up spills. She's turning 5 this year, so we need to nip it in the bud before she starts having hip trouble later in life.
According to my research, a 44 lb dog needs around 630 cals/day. Since we're aiming for a deficit, we're going to limit her to 1-3/4 cups of food per day plus 3-5 small treats. BF says he's committing to taking her on more walks and hikes at the park. Chewy is the most active out of all our dogs (she's got some kind of hyper terrier in her), so she'll be happy with the increase in exercise.
We're excited to get her back in shape! Our goal is to have her down 5 lbs by Spring so she'll feel her best when we take her camping. No tummy dragging on the trails!
I'll keep you posted on her progress :)