REVIEW: SP STEPH's Pistachio-Crusted Salmon
Monday, January 07, 2013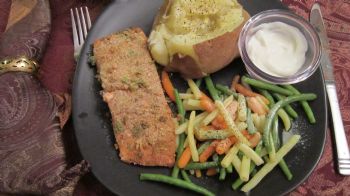 This was delicious! I never thought of using Dijon mustard as a way to "glue" breadcrumbs. LOL
Instead of using four 3 ounce salmon portions, I bought the 5 ounce ones and cooked 3 of them (On my tracker I entered 1.33 servings of this recipe). I ended up cooking them for 22 minutes in my toaster convection oven and it was perfect. Hubby scarfed it up, so either he likes it too or was just starving. I will definitely try this with Cod or Tilapia too.
I am trying at least one new recipe a week to keep this interesting for me. This one was definitely a keeper. If you have not ever explored SparkRecipes yet, do it! There are some really great ones and it keeps you from getting into a rut. It is actually fun to try something new and your family will like it too!
P.S. If you are a vegetarian, pescatarian or just trying to incorporate more vegetarian meals into your diet, SP STEPH's recipes are

!