Sunday, January 06, 2013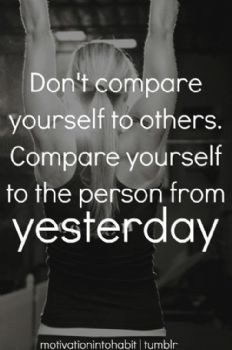 I have been in a serious plateau for several weeks now and it would be great if it was my ideal weight but it isn't. So many changes have happened in my life lately and I haven't handled them well at all.
I think getting back on track will help me clear up the indicision and bouts of self pity. My food choices changed mildly and that has some effect on my situation; however, my idleness has been the downfall. Staying active and eating healthy has been the best prescription for a joyful life. I do not want to become the bedridden sickly person who just about gave up on life.
My husband has noticed that there has been a change in me and asked if he could help in anyway. He loves me sick or healthy but it pleases him to see me enjoying life. Tomorrow I will get back on track with the meal preperations and make sure that I find time to get in exercise. I'm thinking about starting a streak forafew things that have helped me in the past but for now I have have decide to just dust myself off after the fall and get going again.
My triglyverides were 686 (yes that's really true and now there in the mid 300's and so I know I need to watch my sturated fat content.
1. Eat items with 5 grams of saturated fat or less (birthdays and special occasions don't count)
2. Juice more - I have a painful form of TMJD and eating raw freggies can be an er visit
3. Exercise 1000 minutes a month or more
4. Exercise 10 minutes minimum a day
5. Keep writing and putting pictures in my journal (it's like a diary for fitness)