Sunday, January 06, 2013
I had a good week until yet again the weekend. I am making a new resolution.
I WILL NOT HAVE ANOTHER YEAR THAT THE WEEKENDS DESTROY MY EFFORTS.
There are no more days that will feel like this.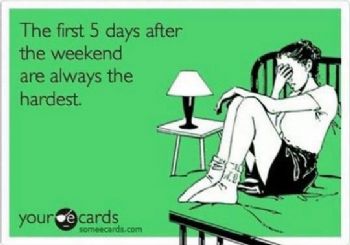 So, tomorrow is a new day and my first day of my "meatless monday's" in 2013.
Menu:
Breakfast - oatmeal banana waffles
Snack - apple & cottage cheese
Lunch - tofu stir fry with 1/2 serving brown rice and extra serving of veggies
Snack - pinto beans
Dinner - black bean quinoa burgers, 1 cup broccoli & 1 oz velveeta