Hey Buddies!
So I've recently downloaded the kindle version of the perfect health diet. It's very similar to Primal (marksdailyapple.com) but actually requires a certain amount of what they call "safe starches" every day for health reasons. This is a pretty controversial topic amongst the low carb/paleo/primal camps, so I thought I would post some info about it. First off, here are the guidelines given from the perfect health website (http://perfecthealthdiet.com/
the-diet/):
We recommend:
About 3 pounds [1.4 kg] of plant foods per day, including:
About 1 pound [0.45 kg] of safe starches, such as white rice, potatoes, sweet potatoes, and taro;
About 1 pound [0.45 kg] of sugary in-ground vegetables (such as beets or carrots), fruits, and berries;
Low-calorie vegetables to taste, including fermented vegetables and green leafy vegetables.
One-half to one pound [0.25 to 0.5 kg] per day of meat or fish, which should include organ meats, and should be drawn primarily from:
ruminants (beef, lamb, goat);
birds (especially duck and wild or naturally raised birds);
Shellfish and freshwater and marine fish.
Low omega-6 fats and oils from animal or tropical plant sources, to taste. Good sources include:
butter, sour cream, beef tallow, duck fat;
coconut milk or oil
palm oil, palm kernel oil, olive oil, avocado oil, macadamia nut butter, almond butter, cashew butter
Acids to taste, especially citric acid (lemon juice, lime juice, orange juice, grapefruit juice), lactic acid from fermented or pickled vegetables, vinegars, tannic acids from wine, and tomatoes.
Broths or stocks made from animal bones and joints.
Snacks or desserts from our pleasure foods: fruits and berries, nuts, alcohol, chocolate, cream, and fructose-free sweeteners like dextrose or rice syrup.
By weight, the diet works out to about 3/4 plant foods, 1/4 animal foods. By calories, it works out to about 600 carb calories, primarily from starches; around 300 protein calories; and fats supply a majority (50-60%) of daily calories.
Even if you read the book and totally believe in the science, moving from low carb/paleo to this model seems scary, given the statements "Eat 1 pound of starch" and "Eat one half to 1 pound of sugary vegetables or fruits." Since not everyone has a food scale (scandalous!) and to provide some much needed context, I thought I would post some photos of what that looks like.
First off, potatoes: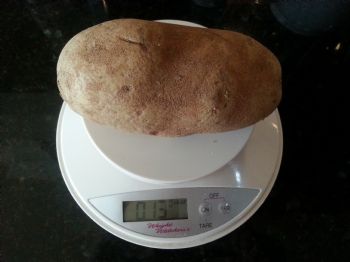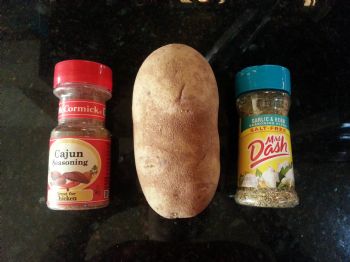 As you can see, the potato weighs 13 ounces (on the nose, impressive!), or about 80% of that 1 pound recommendation. I added the photo next to the seasoning jars for scale because those are pretty standard and I figured most folks have those hanging around. This is not a HUGE potato. It's a medium to even smaller than typical baking potato that one would pull out of the bin in the store. If you buy the big bags of taters you will get smaller ones for sure, but not a lot smaller. According to Spark, 16 full ounces of potato is around 97 carbs.
Now, for fruit (since I happen to have that handy):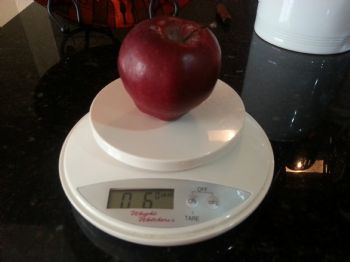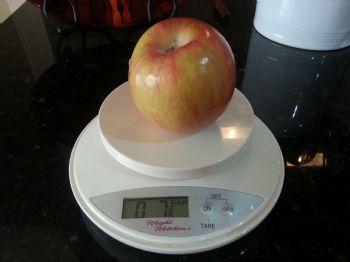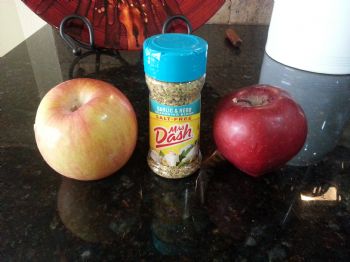 As you can see, the standard "Red Teacher Apple" weighs in at 6 ounces, and the Fuji apple weighs in at almost 8 ounces. Even if you remove 1/3 of the weight for core, you're looking at 4-5 ounces per apple. At the lower end half pound recommendation, that's 2 apples. At the high end, that's 4 apples. Apples are one of the higher sugar fruits, so according to the Spark tracker you're looking at around 40 carbs for 2 or 80 carbs for 4.
I haven't weighed it myself, but I've found online that one cup of cooked rice weighs 7-8 ounces, so 2 cups would be a daily allotment of rice to meet the starch requirement - that's about the same in carbs as potatoes. So in my mind anyway, absolutely worst case scenario (using rice or potatoes and apples vs. carrots, beets, or berries), you're looking at 137 - 177 carbs in a day. Please keep in mind these are GROSS carb numbers, not NET (I didn't subtract fiber). Still significantly less than the standard American diet, but much higher than most in the low carb community are accustomed to. An interesting point to note is how this compares to Mark's Carbohydrate Curve - he states that 100-150 is ideal for maintenance, which isn't too far off the mark (no pun intended) here, even at the worst case scenario end. (http://www.marksdailyapple.co
m/the-primal-carbohydrate-
continuum/#axzz2HDVt8ge7)
Something to remember about all of this too is that the Perfect Health Diet guidelines are written for just that - health. Not weight loss. So we all need to adjust as necessary to lose weight, then increase as makes sense for us to maintain. It's all just a big personal experiment on our bodies, folks... One size does not fit all. I wanted to post this though so people would have some context and not eat 5 potatoes per day thinking that must be "about a pound." I've been doing this long enough to cringe visibly when folks tell me they had "about" so much of something, particularly when it's carb/calorie dense.
I hope this helps someone!
-Allison