Sunday, January 06, 2013
is what I gave my neice with my sisters approval.
I got her a kitten for Christmas. Jade is 4 1/2 and the perfect age to get a kitten and a girl at work had 4 that she needed to find homes for. Every little girl needs a kitten and they have an older dog that is lonely so I am hoping they become friends too.
I got the kitten about a week before we were going to give it to her to get her used to a dog and make sure that she would be used to people and friendly and boy was she.
I bought all the stuff for a new kitten and wrapped them all up and had her open them up first. She was so confused as she opened them while the hubby was trying to keep the kitten quiet in the back bedroom.
Then we had her close her eyes and brought her out and this is what she looked like right after she got her. Shear surpise.
It took her just a little bit for it to sink in and then it was the best Christmas present EVER. By the time she left, Jade was her mommy.
And here is what my sister saw the next day.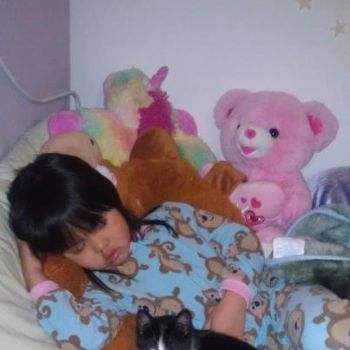 They are so cute together and my sister is really happy with kitty Katie too.
Just had to share since they are so cute together.