Sunday, January 06, 2013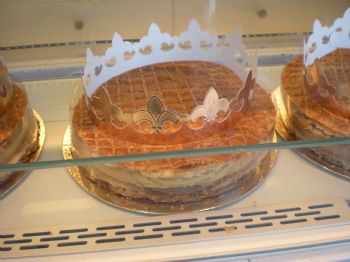 Now that Christmas is behind us (although some of it appears to be lingering around my midsection), and New Year's has passed (heralding in another 2 months of writing down the wrong year on all letters, forms and applications), it's time for the next feestdag of the Flemish calendar – that of Driekoningendag, or Three Kings Day.
On this day, children in groups of 3 dress up to represent the kings and proceed from house to house. They sing special songs for the occasion and are rewarded with sweets or money. Koningentaart is prepared – a puff pastry cake filled with frangipane – and a coin or bean is hidden inside. Whoever gets the piece of cake with the coin is "King/Queen for the Day" and gets to wear the crown. Some people open the doors and windows to let in good luck for the year.
We've just got back from a costly 3.6 mile walk – encountering several kings along the route who lightened hubby's wallet to the tune of quite a few euros!!! Well, you can't really say no, can you?
I was hoping to have an epiphany of my own to share today but no amazing sudden realisations have flooded my mind. However, something that I truly believe in (and may have been an epiphany at some point in my life) is that we can make things happen by being positive. Being positive doesn't mean that bad things and negative feelings never happen or even that a little self indulgent sulking isn't a part of my life. It's knowing inside that you can make things work out no matter what obstacle you're met with – eventually, by working at it. Being negative is powerful and can give you power to not try anymore. It robs you of your power to succeed in other areas. When I indulge in negative thinking, I spiral downwards and it feels like I have a mountain to climb. It's easy to think at these times that there is some force working against you. There is – it's yourself.