Can one put into a window valance? That is the question of the day, and the answer is approximately 1000 (and that is just in one). I'm sure you are wondering "Why is she asking me this?"

I decided that I would save some $$ and re-cover the fabric covered wooden valances in the laundry room, kitchen and breakfast nook. This was actually a compromise to get Dear Bob to continue updating the house from his bachelor days to life with me! God help him!!! Out with "everything nautical" to "classic New England" style. It's taken some time, but he is coming around!

Bob!!! He even went to Jo-Ann Fabrics with me yesterday to help pick out material (he quickly became overwhelmed, bored and went to sit down; I quickly planned my strategy to get the material I wanted!)
Home again, and I decided to get started. My plan was to remove the existing fabric and re-use the wooden forms and anything else I could salvage, using the removed pieces for my pattern pieces. Little did I know what I was getting into, for the company that originally created these must have been paid by the staples!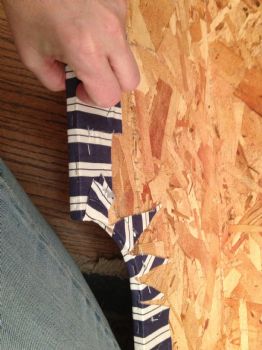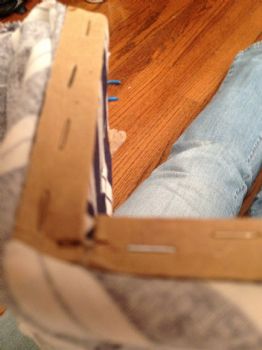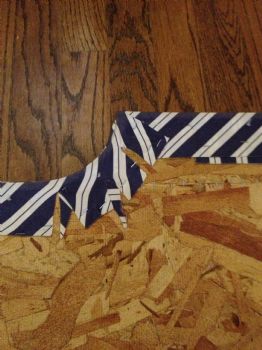 Layer upon layer of material fastened by layer upon layer of staples. 2 1/2 hours into it, I finished removing everything from one frame. I have 4 more frames to go!

Truth be told, it was sort of nice to have some quiet time, doing something so monotonous, tedious, repetitive. It was nice to know that I was back into being creative (or would be soon). It was even nice when Bob came up to check on me and said he would help on Sunday removing staples from the others.
By the way, I wrapped the newly bought material (that he had reservations about) around one of the frames so he could see what it would look like and he said "Babe, you've done it again! You have a keen eye"!!

I'll post pics next week when the project is hopefully completed! Happy Sunday Sparkers!