Sunday, January 06, 2013
I have been thinking a lot, especially since yesterday, about how our experiences in life DIRECTLY effect our experiences with food and eating. It will be these experiences that I have to sort out and work through. Learn to relish the happy moments and let go of the bad ones. To stop being afraid of all the happy things turning into bad things.
I have also been working on figuring out who I am and who I want to be.
Part of my healing and weight loss journey will obviously include coming face to face with myself. I would like to do that here via my blog. Maybe it will help me just to have my story out there and perhaps it will help someone else. I don't know.
I do know that my Biological Father, Danny will be coming to see me tomorrow. This will be our 2nd visit. Our first was in Sept of 2012. (I have a picture up but I will share it here too.) His visit won't be very long but it means the world to me in so many ways that he is willing to come up and see me---even if for a couple of hours.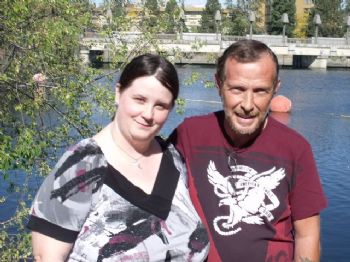 There is a long story to it all, but he is just amazing. My life has lightened up so much since I met him and since we first held each other!
I will be making dinner for us tomorrow. I can't wait. I will definitely share more tomorrow night.
It is just amazing how much I am already learning about myself and my life.
Have a great night, everyone!